CAPE HATTERAS NATIONAL SEASHORE —  The Outer Banks national park has a handful of special activities planned, including a celebration of moving the Cape Hatteras Lighthouse 20 years ago.
Climb Bodie Island and Cape Hatteras lighthouses at no charge April 19, when the historic structures open for the season. Free tickets will be available on a first-come, first-served basis and can only be obtained in person, that day, on site.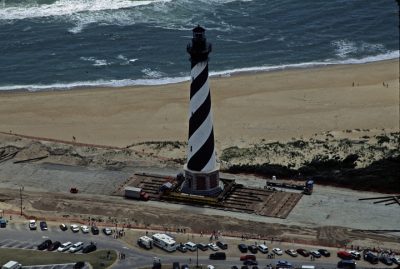 The National Park Service plans to celebrate this summer the anniversary of the Cape Hatteras Lighthouse being moved 2,900 feet over a 23-day period in 1999. The 1870s lighthouse was relocated to help protect the structure from an encroaching Atlantic Ocean shoreline.
To celebrate the 20th anniversary of the "move of the century," Cape Hatteras National Seashore will present daily interpretive programs on the journey the lighthouse made in the summer of 1999.
Meet seashore staff at the Hatteras Island Visitor Center Pavilion at 10:30 a.m. to hear the 20-minute program that will be offered May 3 through Oct. 14.
During the 23 days of the lighthouse move anniversary June 17-July 9, additional interpretive programs and a special anniversary event will be held. More details will be announced closer to the event.
There's also an opportunity to climb take Full Moon Tours of the Cape Hatteras Lighthouse June 17, July 16, Aug. 15 and Sept. 14. Tickets for the full moon climbs can be purchased online starting at 10 a.m. am three days prior to each tour date.
During the climbing season that closes Oct. 14, daily ticket sales at each location begin at 9 a.m. with the last tickets sold at 4:30 p.m.  For more information on regular climbing ticket prices, rules, and safety information, visit the park service website.