From the North Carolina Maritime Museum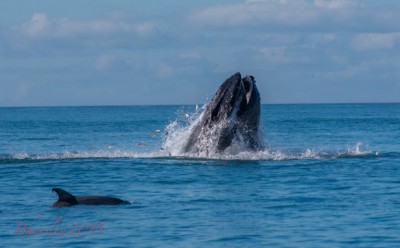 BEAUFORT — Teaching is one thing, says North Carolina Maritime Museum Natural Science Curator Keith Rittmaster. But telling a story — that's what makes learning easier and more engaging.
"I've been at this 30 years," Rittmaster said. "I've got a whole lot of stories."
Rittmaster is one of the speakers scheduled at the fourth annual North Carolina Whales and Whaling Symposium, an event that focuses on the whales found in our coastal waters, historic hunting practices, marine mammal conservation and other related topics. The symposium will be held April 12 from 10 a.m. to 3 p.m. at the North Carolina Maritime Museum, 315 Front St. The program is free and open to the public. Advance registration is not required.
"This symposium has been very popular," Rittmaster said. "I think it's fun too."
A shared interest in marine mammals led to the symposium's creation in 2016, according to John Hairr, the museum's education coordinator, who worked with Rittmaster in developing the museum's most unique and innovative educational program.
Hairr's focus includes the history of whaling in North Carolina while Rittmaster is drawn to current biology and conservation.
"We sort of complement each other," Hairr said.
So it was natural that they would incorporate their combined expertise into the day-long programming.
"We just started the symposium to show off some of the cutting-edge marine mammal research being done in the region, as well as communicate about the region's deep history in whaling and the porpoise fishery," Hairr explained.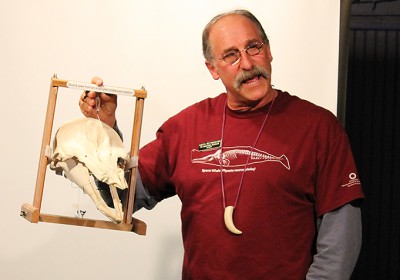 The program will feature educators, biologists, environmentalists and historians giving presentations regarding whales and whaling that are appropriate for all audiences. There will also be displays showcasing marine mammal bones, teeth, baleen, oils and skeletons.
"We like putting things in people's hands when we can," Rittmaster said.
The program starts each year with his presentation. For those who have attended previously, he said he'll have new photos and new information about some of the 34 species of whales currently found off the coast of North Carolina.
"That's more than any other state in the country," Rittmaster said. "North Carolina has high diversity."
He'll also provide an update on the endangered right whale. So far this year, there have been three births reported and it's still calving season — a welcome change from 2017-2018 when 18 deaths were confirmed and then, in 2018, no births.
As part of his presentation, Rittmaster also makes a point of addressing the threats facing marine mammals — such as military sonar activities, seismic testing, marine debris, fishing gear, ship strikes, and other hazards — and what can be done to counter them.
"We've got a whole lot to lose," he said. "But there's something we can do about that.
"And the public can be involved."
For more information on the 2019 North Carolina Whales and Whaling Symposium or other programs and events at the North Carolina Maritime Museum, visit ncmaritimemuseumbeaufort.com or call 252-504-7740.
Symposium Schedule
10 a.m. Introduction
10:05 a.m. Whales of North Carolina. Rittmaster will give an overview of the many species of whales seen in North Carolina waters.
11 a.m. Lt. James Waddell and the CSS Shenandoah's Raid Against the Whalers. Hairr will examine the exploits of North Carolinian Lt. James Waddell and his raid against New England whalers operating in the Pacific during the final days of the War Between the States.
1 p.m. The Mysterious Lives of Cuvier's Beaked Whales off Cape Hatteras. Duke University Marine Laboratory Research Scientist Danielle Waples will speak about the research she and her colleagues have been doing with Cuvier's beaked whales offshore of Cape Hatteras.
2 p.m. Smithsonian Curator A. Remington Kellogg (1892 – 1869), A Seminal Figure in Marine Mammal Science and Conservation. Collection Manager of Marine Mammals at the Smithsonian Institution John Ososky will speak about Smithsonian curator Remington Kellogg who made great scientific advances in the study of living and fossil marine mammals.
3 p.m. Hatteras Dolphins on Display. Museum Associate Curator Benjamin Wunderly will discuss the details surrounding the capture of live dolphins off Hatteras Island and how they would be displayed in the New York Aquarium. Wunderly's presentation will examine some of the shore-based dolphin harvesting operations that occurred along North Carolina's coast for over 100 years.