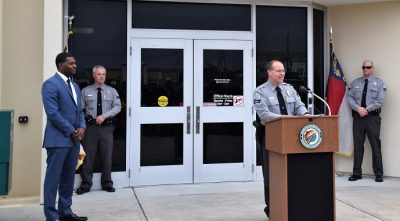 MOREHEAD CITY – The new colonel of the North Carolina Marine Patrol was pinned with his gold eagle wings during a ceremony Monday at the North Carolina Division of Marine Fisheries.
Col. Carter Witten, who was most recently captain of the Wilmington Marine Patrol District, replaced Marine Patrol Col. Dean Nelson, who retired Dec. 31. Witten has more than 20 years in the Marine Patrol, having worked in all three districts along the coast. He has served as field training officer and instructor and has represented the state on the Interstate Shellfish Sanitation Conference.
The top law enforcement officer of DMF, the Marine Patrol colonel manages more than 65 positions, including 53 officers and six dispatchers, and directs law enforcement efforts over 2.7 million acres of ocean and coastal fishing waters in the eastern counties of the state.
"I'm grateful and humbled to accept the promotion of colonel of the North Carolina Marine Patrol," Witten said to the several dozen attending the ceremony held in front of the DMF building on Arendell Street.
"I'm first happy and proud because I feel my efforts these last few years has had a positive and satisfactory result," he continued. "The post of the Marine Patrol colonel is a great responsibility but this is also a grand opportunity to demonstrate all I have learned and how capable I am, so I am sure I will not disappoint you."
He added that he looks forward to leading the Marine Patrol into their next chapter and will work closely with DMF "to protect and build the natural resources of North Carolina."
"We're going to educate the public while protecting and enforcing the rules and regulations set out," Witten said, and that officers will be on the water, in fish houses and monitoring shoreline activities.
"I look forward to having an open-door policy with the division, department staff and public," he said.
Department of Environmental Quality Secretary Michael Regan told the crowd before Witten was pinned by his wife Joy and son Taylor, that the "quality of service from our officers is only enhanced by great leadership. So today, I'm honored to be here as Col. Carter Witten receives his golden eagle wings and assumes the leadership over our Marine Patrol."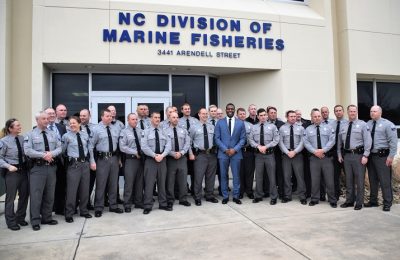 Regan added that Witten is the only officer to twice receive the award of Marine Fisheries Enforcement Officer of the Year, in 2004 and 2014.
DMF Director Steve Murphey explained that the Marine Patrol is one of DMF's nine administrative sections.
"Marine Patrol is really our enforcement arm, they're our eyes and ears on the water. Without them, we would not be able to do the important work that we do," Murphey said.
After the ceremony, Witten told Coastal Review Online that he had worked hard in all three districts.
"I look forward to the challenge, to leading the officers and really educating the public, letting them know where here, what we do, enforcing the rules and regulations and building and protecting the natural resources," he said about his new role.
Regan said in an interview that he's excited to have Witten take the helm.
"He's got 20 years of experience, and we're excited that not only has he had experience in three different districts, but he has a track record of unifying and thinking about cross-system integration, and so we're looking forward to building on the strong foundation we already have," Regan said.
Regan explained that Marine Patrol is important because "This organization, number one, helps to protect not only our natural resources but the health and safety of our North Carolina citizens … this is a very strong but important safety arm for the Department of Environmental Quality and since I've been in this position, I've wanted to really focus on strengthening this so that we can continue to protect not only our natural resources but the health and wellbeing of North Carolina citizens."
Marine Patrol is an important piece of the puzzle and … "I wanted to ensure that the public knows this is an important part of DEQ and that we're going to continue to support the men and women in uniform," Regan concluded.
Witten began his career with Marine Patrol in July 2001 as a Hyde County patrol officer. He transferred to Carteret County in early 2002 where he patrolled the Newport River, and later to Craven County, where he patrolled the Havelock and New Bern areas, according to DMF. He was promoted to sergeant over Hyde and Dare counties in September 2008 and transferred in May 2011 to Craven, Pamlico and Beaufort counties. He was promoted in April 2017 to captain in the Wilmington District. He was with the Havelock Police Department from October 1998 to July 2001, before joining Marine Patrol.
Witten graduated from Havelock High School in 1994 and received his Basic Law Enforcement Training Certificate from Carteret Community College in 1997. He lives in Havelock with his wife and son.