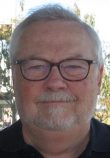 SUNSET BEACH — The mayor of this Brunswick County town announced his resignation near the end of the Monday town council meeting, effective 5 p.m. Tuesday, Feb. 5.
When resigning, former Mayor Greg Weiss, who was sworn in Oct. 1, 2018, commented, "Sometimes in working together, people see things differently. Sometimes, one or more of those people may feel that a process has worked in a way that makes them so uncomfortable that they feel a need to take action. I'm taking this opportunity to announce that I am resigning as mayor," according to the email from Town Clerk Lisa Anglin Tuesday afternoon announcing the resignation.
Weiss was appointed Sept. 4, 2018, according to the town website, replacing former Mayor Robert Forrester who resigned during a council meeting March 5, 2018,  when town administrator Susan Parker was terminated. Forrester "Voiced opposition and read a prepared statement announcing his resignation effective at the end of this Meeting as a result of the decision to terminate Susan Parker's employment with the Town," per the minutes.