These scenes of flooding in Nags Head and other areas along the Outer Banks after Hurricane Matthew were captured by Baldwin Video Productions and published to YouTube Oct 11, 2016.
OUTER BANKS – Considering the prodigious amount of flooding North Carolina's coastal communities have endured in recent years, stormwater engineers may be assured job security for decades to come.
But a glimpse of two proposed projects to address stormwater problems on the Outer Banks, both paid for in part with recently awarded grants from the state Division of Coastal Management, reveals a troubling future further complicated by intensifying rainstorms, more dramatic king tides and rising groundwater levels.
Nags Head received $20,000 from DCM in January for stormwater modeling being done as part of its ongoing stormwater capital improvement plan. On the northern Outer Banks, the town of Duck also received $20,000 to assess vulnerability of town infrastructure to storms, flooding and sea level rise.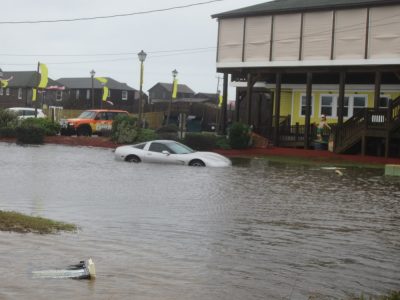 Beach communities on the low-lying Outer Banks have been struggling to upgrade aging, clogged or inadequate drainage systems that cannot handle the vast amounts of water dumped by recent storms. The maintenance and repair of systems have been hampered by crisscrossed private and public jurisdictions and inadequate information about the location and condition of existing infrastructure.
Hyde and Beaufort counties also received money for flood control and shoreline protection, respectively, from the DCM planning and management grants program, which is intended to assist with coastal land-use issues.
Public outcry about standing water in yards and on roadways has spurred local governments on the Outer Banks to look long and hard at drainage issues. And the picture is not just about too much water in the wrong places. It's also about septic overflow mixing with that water. It's about too much impermeable surface coverage. It's about having enormous bodies of water as neighbors. And it's about very high costs.
"What we try to caution everybody is that we're living on a barrier island in a coastal environment," said David Ryan, Nags Head town engineer. "We can never fix everything."
Nags Head has experienced vast amounts of rainfall in the last two years, even when there wasn't a tropical storm. Streets and neighborhoods that had rarely flooded were under water for days. After Hurricane Matthew in 2016, the town began updating its stormwater plan and with input from residents developed maps of drainage infrastructures throughout the town and prioritized projects in flood-prone areas.
In January, the town board approved a $514,800 contract for the first three projects to be paid for partly with a stormwater fund derived from a 1-cent ad valorem tax, which was recently raised to 2 cents. The remaining 10 projects are in various phases of conceptual development or design. Approval of a project is subject to a threshold of at least 50 percent improvement in the depth and frequency of flooding.
"What we try to caution everybody is that we're living on a barrier island in a coastal environment. We can never fix everything."

– David Ryan, Nags Head town engineer
Ryan said the 10-year-old mapping of the drainage systems – pipes, ditches, outfalls and swales – has been updated, although condition assessments are not yet included. A complete inventory of the stormwater infrastructure, including elevations, is underway. Predictive modeling results that look at the largest benefit for the least cost will come into play in scheduling future projects, he said.
According to information on the town website, in addition to 12 outfalls to the Roanoke Sound or marsh areas west of South Nags Head, there are about 55 miles of drainage infrastructure in town. Of that, 20 miles are within the North Carolina Department of Transportation's right of way. There are also four ocean outfalls in the town and one south of its border that are maintained by NCDOT.
All told, the department operates and maintains one-third of the town's drainage systems. Although the outfalls are technically NCDOT's baby, the town's first stormwater prioritized project is addressing improvements on the upstream end of the outfall of two, 30-inch diameter pipes on the beach near Gallery Row. The area, which is Nags Head's largest drainage basin, drains poorly and is vulnerable to flooding.
A portion of the outfall pipe will be replaced with a rectangular structure that has a larger flow area and lower elevation. Ryan said that the town had partnered about three years ago with NCDOT on repairs of that outfall's discharge end, and is currently negotiating to have a similar arrangement with the upcoming project.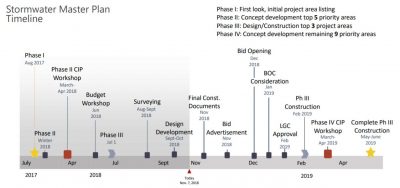 A 2016 state Department of Environmental Quality study, "Ocean Outfall Master Plan," looked with excruciating detail at the outfalls' impact on the surrounding watersheds including stormwater runoff, drainage and impervious surfaces. Two of the pipes are also located in Kill Devil Hills.
Much of the study focused on pollutants, contaminants and toxins in runoff, whether from bird and dog feces, lawn chemicals and fertilizers or pesticides, with an especially alarming look at the growing risk of septic tank failures as flooding and beach erosion undermine the systems. Sewage-treatment facilities are few on the Outer Banks.
Recommendations in the report included, among others, retrofitting and upgrading existing stormwater systems and using groundwater drawdown to increase storage and decrease runoff.
"It is clear that any path forward will need to be developed by local stakeholders and regulatory agencies to reach a consensus," according to the report. And most of the approaches, the report said, would be too costly for any one community to handle without help – financial and otherwise – from state and federal sources.
Cliff Ogburn, Nags Head's town manager, said the outfall report, which was done for the state by engineering firm Moffatt & Nichol, had been shared with the town's stormwater engineers at the firm WithersRavenel of Cary. But the town opted to go with their engineers' recommendation to use a passive approach at the Gallery Row outfall site, rather than follow the report's recommendation to use an active pumping system.
"The solution should aid in managing upstream groundwater levels, reduce frequency of flooding and depth of flooding," Osborn said in an email.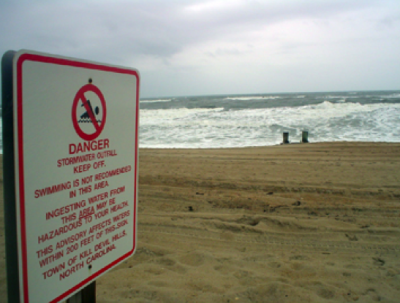 In addition to the outfall work, the town is planning to install a groundwater-lowering system with well pumps in the Nags Head Acres subdivision, which would hopefully free up more storage in the existing drainage network. A similar system used in a pilot project at the Vista Colony subdivision had encouraging results, Ryan said.
The third project will install a French drain system at Village at Nags Head to alleviate depth and frequency of flooding.
Meanwhile, the town is working to document rainfall, where and how much. It's not just the amount of rain that has been surprising, it is also that one part of town would be soaked while another barely had a puddle.
"We don't know how the water table responds," Ryan said. "We want to get a better understanding of the groundwater response."
Much comes into play in drainage, he said: How much of the typography is developed? How does it relate to the surrounding elevation? How much natural vegetation is there? What is the type of underlying soil? Does water flow vertically or horizontally?
A study of tidal influences as it relates to groundwater is currently being conducted by scientists at Woods Hole Oceanographic Institution, Ryan said, and the town is working with the Coastal Studies Institute in Wanchese to plan a study that would assess and evaluate the relationship between rainfall events and groundwater levels.
The town is also working with contractors to use low-impact development techniques to address runoff at its source.
"It's complex when you stand back and look at all this," Ryan said. "We're trying to be as progressive and proactive as possible, looking below ground as well as above ground."
Local governments on the Outer Banks, facing more flooding every year, are all working to get ahead of the curve in management of stormwater.
Dare County, responding to public outcry after prolonged flooding on the north end of Roanoke Island, has worked with NCDOT on an engineering study to evaluate stormwater needs. The study has not yet been completed.
Also, the town of Kill Devil Hills has requested that the county partner with its six towns to establish a stormwater management collaborative to attack the issue more holistically.
The town of Duck has partnered with the Program for the Study of Developed Shorelines at Western Carolina University to assess the vulnerability of its town-owned buildings.
"It's kind of a checklist that we'll develop," said Chris Layton, Duck's town manager. "I guess it remains to be seen what the utility is with this. There's definitely an interest in the town for us to do something."
The type of study, which the university program had done for the National Park Service, will look at the location and what exposure it has to a hazard such as storm surge or tidal flooding. At the same time, the sensitivity of the asset and potential mitigation will also be assessed.
The town is also considering a similar study to look at vulnerability of private property, he said. And it is continuing to work with NCDOT to address flooding issues on N.C. 12, as well as studying new property designs that are more resilient to flooding events and rising seas.
"The question becomes a question of adaptability," Layton said. "We know it's going to happen. Whatever happens, it's not going to happen overnight."