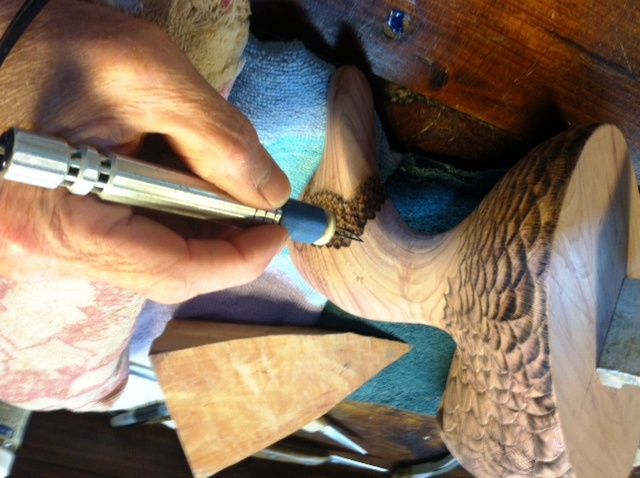 HATTERAS VILLAGE – Events for the first Hatteras Village Waterfowl Festival set for Feb. 22-24 were planned with carvers, birders, foodies, artists and enthusiasts in mind.
Sponsored by the Hatteras Village Civic Association and Outer Banks Visitors Bureau, the three-day festival features a food and beverage pairing at the Hatteras Civic Center Feb. 22, a full day of events throughout the village including youth activities and a seafood dinner Feb. 23, and the weekend will close with a breakfast Feb. 24.
Organizer Karla Jarvis said she had the idea to host a waterfowl festival in Hatteras a couple of years ago.
"I wanted to share the beauty of Hatteras in the winter and showcase the rich waterfowl resources we have," Jarvis explained. "Circumstances had me shelve the whole thought for a bit but when I got to the other side, the festival became a New Year goal for me to bring to fruition. I convened a committee and we were off."
A dinner, "Fin, Feather and Bourbon," kicks off the festival Friday evening. There will be a spread of seafood and fowl dishes paired with wine and North Carolina bourbons plus a silent auction that benefits the Cape Hatteras schools' art programs.
"One thing that we are really excited about is our Fin, Feather and Bourbon event on Friday night. It will feature seafood and fowl samplings, prepared by favorite local chef Dee Callahan and her staff, paired with North Carolina bourbons and wine."
The menu will feature Hatteras-style crabcakes and tuna samplings as well as quail and duck, along with some other dishes for a variety of flavors and there will a chicken option for those who don't care for either of the featured flavors, she said.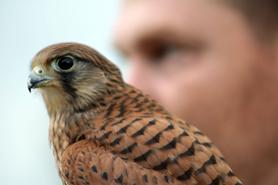 The idea for the Fin and Feather event came from wanting to showcase local seafood while also retaining the whole idea of the waterfowl theme of the festival, Jarvis said.
Events Saturday, Feb. 23, will be held throughout the village. Ticketholders can visit with decoy collectors and bird carvers in the community building. "We are working on building a wing of the festival to pay homage to carvers and decoy collections both from the island and surrounding areas," Jarvis added.
There are activities for younger attendees as well. Jarvis said that the events planned for kids include egg hunts for prizes using camouflage eggs to make it a bit more challenging. "There will also be a 'Creation Station' in which our youngest visitors will be able to decoupage and decorate a papier-mache duck form and take their creation home as a keepsake of the festival. There will be an interactive trailer for touring that features boxes and mounted birds that the children can see up close and touch."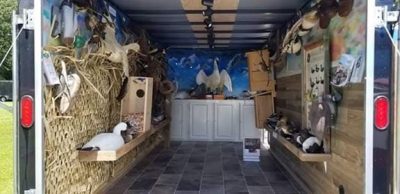 Hawk Manor Falconry from Lillington will be demonstrating their birds of prey and offering education and interaction with these birds, Jarvis said. There will also be a bird walk with Hatteras Island Ocean Center, a working blind tour by boat, Cape Hatteras schools art students will display their work featuring waterfowl and attendees will have an opportunity to paint their own decoy with Trish Dempsey at Saltair Images.
Dinner Saturday, Feb. 23, will be a local seafood and gold ticketholders can wrap up the festival during a Feb. 24 breakfast buffet.
There are a couple of ticket options for this event, starting with gold tickets that include entrance to all exhibit venues and all food events. Prices are $50 for single or first adult in a group and $25 for second adult ticket. For ages 11-17, the ticket is $20; for ages 6 -10, the ticket is $10 and children under 5 are free. For Saturday only, a day pass is $10 and $5 for students.
Tickets can be purchased on the website or at Highway 12 Realty and Buxton Village Books, both in Buxton, Frisco Rod and Gun in Frisco, and Nedo True Value and Oden's Dock, both in Hatteras.
Birder Kate Sutherland of Hatteras added that the festival is a celebration of water birds around Hatteras, which there is a plethora of in the winter. "For birders, there is so much to see here in the winter months."
"We will have a bird walk on Saturday morning to introduce people at any level of birding to some of our local species I will be giving a presentation about seabirds off of Hatteras as well.  Our duck hunters and guides have an intimate knowledge of our local waterfowl and many of our decoy carvers spend hours etching each feather perfectly – to me there are no others I would rather share my appreciation of birds with," she added.
Sutherland said that she loves that Jarvis is "broadening the definition of waterfowl from the traditional that includes just ducks, geese, and swans to the birds that live in and around bodies of water like rivers, lakes, and the ocean.  She really wants this festival to encompass all that we have to offer. I am excited about the weekend and hope we can pull a nice group together for the event."
Jarvis said that she and her committee have put a lot of energy and effort into the festival.
"In the winter around here, we have the opportunity to stop for a minute, breathe, and enjoy our time. For the locals, I hope this festival provides the opportunity to see neighbors and friends and also experience some new and exciting things," she said. "For those joining us from out of town, I hope they discover the rare beauty that only Hatteras can offer in the winter. For the waterfowl community, I hope this festival sheds a bright light on them and their passions and instills the idea that we are more than just what swims in our waters."
Learn More