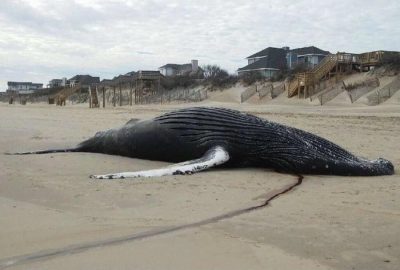 Reprinted from Outer Banks Voice
OUTER BANKS — A large humpback whale was discovered on the beach in Corolla early Sunday, the second whale within six days to beach along the Outer Banks.
Corolla Beach Rescue posted photos Sunday morning of the large whale found near the Hampton Inn and Suites.
Tuesday, Feb. 12, a humpback whale washed up in the surf near Oregon Inlet after being spotted floating in the ocean in Nags Head the day before.
The 38-foot whale was partially decomposed and no cause of death was immediately apparent. Sunday's incident marks the seventh stranding so far this year on Outer Banks beaches.
Another humpback was spotted floating off Jennette's Pier Monday, Feb. 11, before ending up on the beach near Oregon Inlet.
"We took skin samples and some photos of its flukes to see if we can identify it to a known animal,"said Karen Clark of the Outer Banks Mammal Marine Stranding Network. "It was already scavenged on its head, so we just did a basically external examination."
Humpbacks can be identified by prints on their flukes, which are the two lobes of its tail. Whales migrate to the coast of New England to forage for krill and schooling fish during the warmer months.
Marine networks in the northeast track and keep a catalog of known whales, Clark explained. However, because the humpback had spent so much time rolling in the surf, the whale, or its cause of death, couldn't be identified.
This story is provided courtesy of the Outer Banks Voice, a digital newspaper covering the Outer Banks. Coastal Review Online is partnering with the Voice to provide readers with more environmental and lifestyle stories of interest about our coast.