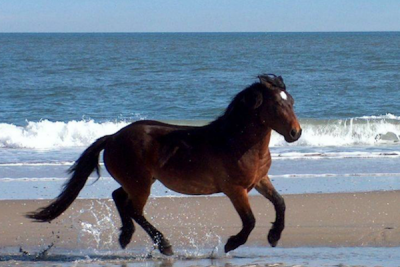 Article by Kari Pugh reprinted from the Outer Banks Voice
Roamer, a stallion who became an ambassador for the northern Outer Banks' storied wild horses, died last weekend following complications from colic.
The stallion's photo is featured on the Corolla Wild Horse Fund's educational billboard erected along U.S. 158 in Coinjock last year. He was also a regular at the fund's "Meet a Mustang" events, where he greeted thousands curious about Currituck's Colonial Spanish horses.
The wild horse fund manages the herd of about 100 wild mustangs who roam the four-wheel-drive area beaches and a rescue farm of about 17 horses.
Prior to his days as an ambassador, Roamer was a bit of a troublemaker. He "repeatedly swam around a fence that extends into the sound to make his way through busy neighborhoods and dangerous traffic on Route 12," Currituck Travel and Tourism wrote.
His "roaming" ways eventually led to a life at the fund's rescue farm, for his own protection. Roamer has lived there since.
This weekend, he was showing signs of colic and the herd's vet was called.
"She and our staff did everything in their power to save Roamer, but he had a tear in his GI tract that led to sepsis," the CWHF wrote in a Facebook post. "It was less than 24 hours after he first showed signs of colic that we made the difficult decision to let him go."
Colic is a common ailment among the wild horses, and in fact is the subject of the billboard graced by Roamer's photo.
"Admire Don't Feed! Apples and Carrots Kill Wild Horses," it reads.
The message is intended to educate people that wild horses cannot eat any food that is not from their natural habitat of beach grasses. The public is often unaware that their snacks are harmful and often cause painful colic and may result in death, according to a press release from the wild horse fund.
Describing Roamer's death as "absolutely devastating for all of us," the nonprofit said the loss is great for the herd, as well.
"However, Roamer leaves behind his offspring on the beach and his legacy as an ambassador for his breed. We take comfort in knowing he will live on in those ways, but we are still grieving, and will be for a long time."
This story is provided courtesy of the Outer Banks Voice, a digital newspaper covering the Outer Banks. Coastal Review Online is partnering with the Voice to provide readers with more environmental and lifestyle stories of interest about our coast.