RALEIGH – The legislative session cranks up in earnest at the end of the month, but members putting together bills and budgets on environmental and mariculture initiatives are getting an early start.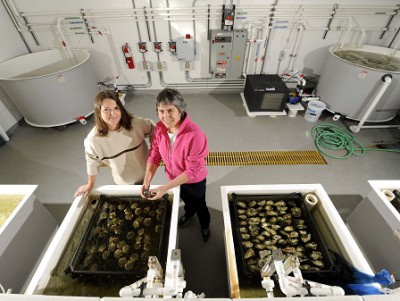 The Joint Oversight Committee on Agriculture and Natural and Economic Resources Thursday reviewed proposals to boost the state's oyster enterprises and compensate growers and businesses for damage from Hurricane Florence. The committee, which has a membership that overlaps with environment and agriculture budget committees, also received updates on the economic toll of last year's storms and a new statewide testing and monitoring program for GenX and other per- and polyfluoroalkyl substances, otherwise known as PFAS.
Several of the proposals are likely to be written into the budget bill, which is due by June 30, the end of the state's fiscal year, or introduced as standalone bills in the months ahead. Some of the proposals involve items left unresolved at the end of the 2018 session, including a plan for resolving shellfish leasing regulations that failed to win passage as last year's session wound to a close.
Initially, that legislation would have greatly expanded the size of shellfish leases to accommodate companies that want to create large-scale operations, but the bill met opposition from both environmental advocates and shellfish growers.
In a new set of proposals — North Carolina Strategic Plan for Shellfish Mariculture: A Vision to 2030 — issued in tandem with studies mandated by the legislature, researchers and policy experts say the leasing issue has benefited from both a fresh look and better integration with an overall strategy for oyster and other mariculture initiatives.

Joel Fodrie, an associate professor at the University of North Carolina Institute of Marine Sciences in Morehead City and one of the main researchers for oyster studies coordinated by the North Carolina Policy Collaboratory at University of North Carolina Chapel Hill, said the program proposed benefits from a new, broad review of practices in other states.
He said one key result is that the strategy proposed no longer looks to Virginia and Louisiana as templates for growing operations in North Carolina.
"These are leaders in terms of how much shellfish product they're putting out. We know that. We've been asked to in some ways model our growth after Virginia," Fodrie told legislators. "However, one thing we found is that they produce this shellfish using a huge amount of leased habitat, and this infringes on public trust resources. They produce at an incredibly low rate of per unit-acre."
Other states, including Massachusetts and Washington, he said, have much less acreage bound up in leases but still produce a large amount of shellfish product.
"This sort of low footprint on public trust bottom, but high productivity is the model that we think works best for North Carolina and our growers."
"This sort of low footprint on public trust bottom, but high productivity is the model that we think works best for North Carolina and our growers."

— Joel Fodrie, University of North Carolina Institute of Marine Sciences
The shift in the model, he said, would make sure leaseholders are productive, while helping to mitigate the increasing number of conflicts over putting leases in public trust waters.
Fodrie said the mariculture plan, which includes 21 separate policy proposals, includes expanding the maximum size of a single lease in Pamlico Sound to 50 acres and giving the state's Division of Marine Fisheries greater flexibility in determining size limits for leasing areas in other waters. Initially, last year's legislation would have allowed for leases of up to 200 acres.
Overall, the plan sets a target of producing $33 million annually within 10 years, a size that would support roughly 1,000 jobs, Fodrie said. The 10-year cost of the initiatives in the plan would be about $13 million, he added.
Many of the recommendations in the plan would require legislative changes to existing law, including establishing the new water column leasing rules, setting up enterprise areas where leases could be expedited, authorizing a crop insurance plan for producers and setting higher production requirements for existing leases.
Fodrie said the strategic plan seeks to link existing programs and initiatives as well, from marketing programs like the proposed Oyster Trail to more funding for work by the Division of Water Resources and Division of Marine Fisheries.
If the legislature approves new leasing and other programs, DMF has to have the resources to grow along with the industry. It also means working to strengthen the business side of the operations.
"These men and women are really good at growing oysters, but they often don't come from a business background. They need help understanding a loan program or research opportunities or insurance options," he said.
Legislators also reviewed a program to assist commercial fishing operations damaged in Hurricane Florence.
Steve Murphey, director of the Division of Marine Fisheries, said the division is compiling trip tickets to determine damage totals for producers, who do not qualify for traditional crop insurance programs.
Murphey said the division has contacted 1,782 commercial license holders with an initial round of damage estimates and received 769 responses, so far. Checks for losses in September are expected to be mailed out by February and payments for loses for October and November will follow later this spring.
In the hurricane-response legislation passed last year, the state set aside $11.35 million to assist commercial fishing and shellfish businesses.
GenX, PFAS Network Update
Committee members also got an update on a Collaboratory effort that grew out of the contentious debate over developing policies to address PFAS and other emerging contaminants, including GenX, which are potentially harmful, but for which little research has been done to determine their effects on humans and the environment.

Last year, after a three-way debate among the House, Senate and governor's office over how to move forward on drafting policies to monitor and regulate emerging contaminants, $5 million was earmarked for a Collaboratory-sponsored initiative to create a statewide network of researchers engaged in studies around emerging contaminants and to sponsor new research to fill in gaps needed to draft new policies.
The Per- and Polyfluroalkyl Substances Testing Network currently includes researchers at six UNC system schools and Duke University.
Lee Ferguson, a Duke researcher who specializes in the detection of PFAS compounds, said that in about two weeks, teams will conduct initial round of sampling and over the next year test waters for PFAS compounds near 191 municipal surface water intakes and all 149 municipal drinking water systems using groundwater. The first round of analysis for those initial samples should be completed in late spring.
Ferguson said the group will use targeted testing to search for 55 known PFAS compounds that are more commonly used in industrial processes and a broader testing plan for the roughly 5,000 other known PFAS compounds.
Ferguson said it's important to get an idea of the types of PFAS compounds and their concentrations throughout the state. He said the revelations in 2017 about GenX and other compounds in the Cape Fear River may have triggered the need for more research, but there is enough evidence of the presence of PFAS compounds elsewhere in the state to warrant a comprehensive look.
"This is not just a Cape Fear problem," he said, referring to the Wilmington area's drinking water contamination that helped raise awareness of GenX and similar substances in North Carolina. "We are finding legacy PFAS as well as emerging PFAS compounds at variable but in some cases high levels in the drinking water supply around the Haw River watershed."
Although the findings could not be used for enforcement actions by the state's Department of Environmental Quality, Jeffery Warren, the Collaboratory's research director, said the information could provide DEQ with information on areas where there are potential "hot spots" for PFAS.