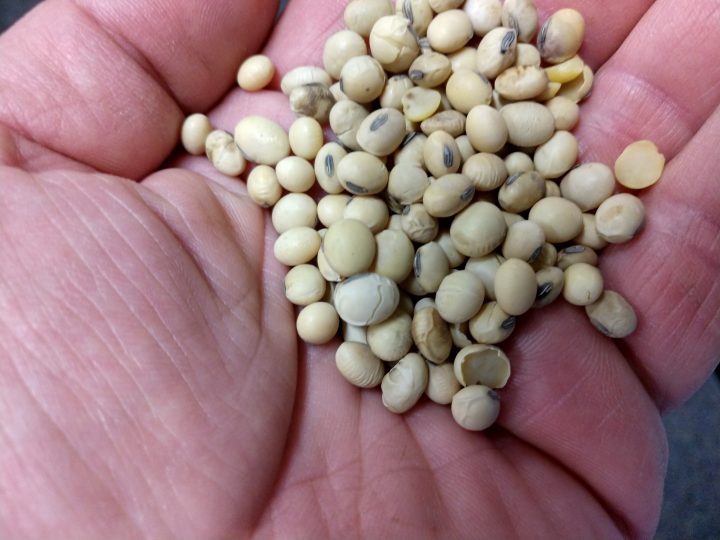 ELIZABETH CITY – Cotton has not been king in North Carolina for more than 100 years. By 1915, the boll weevil had finally found its way to the state's farms and the destructive pest, coupled with falling prices in world markets, led farmers to begin turning to other crops.
In North Carolina, the alternative crop was soybeans. Farmers had already been planting soybeans, mostly as feed for livestock and domestic fowl, but by 1915 soybean had become an important commodity crop — so important that, for a brief period of time, North Carolina was the No. 1 producer in the country. Today it ranks 17th.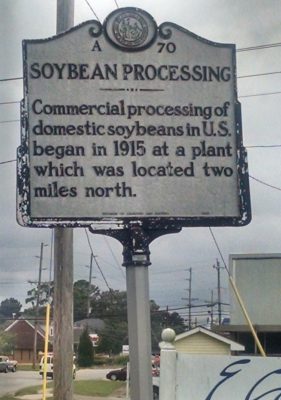 In the northeastern corner of the state, soybeans really found a home, so much so that on Dec. 13, 1915, the Elizabeth City Oil and Fertilizer Co. did something no one else in the United States had ever done before. They converted the machinery they had been using to process cotton seeds into cottonseed oil to produce the first commercially available soybean oil in the country. In that first run, the company crushed 20,000 bushels of soybean.
Soybeans are still king in the northeastern corner of the state. Farmers in almost all of North Carolina's 100 counties plant soybeans. In 2017, Pasquotank ranked fifth in the state, producing 2.5 million bushels. Perquimans County was eighth, harvesting 2 million bushels.
Each year, the Pasquotank County Cooperative Extension hosts a regional Soybean Festival, bringing together farmers from Camden, Currituck, Pasquotank, and Perquimans counties. Held earlier this month on the campus of Elizabeth City State University, it's as much a social gathering and dinner as it is a festival. Neighbors say "hi" to neighbors and catch up on what's happening a few miles down the road.
There's a brief awards ceremony to recognize the region's most productive farmers. Doug and Billy Mercer of Pasquotank County have taken that award home two years running, this year producing 90.1 bushels per acre. Temple Family Farms in Pasquotank County was awarded this year for the most efficient or lowest cost for their yield in the region and the state.
The event also includes fried chicken and pulled pork, and there's an award ceremony for soybean posters created by fourth-graders at area schools. There's also entertainment, this year it was an Elvis impersonator, A.J. Outlaw, regional manager for Coastal AgroBusiness, and the entire event was family oriented, reflecting the lack of corporate farms raising soybeans in northeastern North Carolina.
Faytie Johnston grew up just outside of Moyock in Currituck County. She's retired now after 25 years as an extension agent in Jones and Pasquotank counties, but her first taste of farming was on the family farm.
"We had soybeans on the farm for quite a number of years," she recalled. "My father, he rotated between corn and soybean. It was a small farm, about 200 acres. That was probably in the '40s."
The farm is no longer there, but Johnston's experience is typical in an area where family farms dominate.
Wesley Moore is a third-generation farmer living just outside of Elizabeth City on the road to Weeksville. He has, as he said of farming, "… been around it my entire life."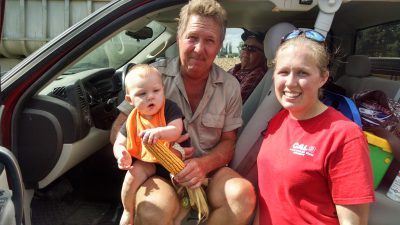 "My father farmed. My grandfather farmed. I got out of high school and I've been doing this for 43 years," he added.
The family farm is about 600 acres, "a large small farm," as he described it.
And it's productive.
"There's some really good soil around here," he said.
Pasquotank County Agricultural Extension Agent Al Wood agreed.
"This part of the state is the most productive for soybean," Wood said. "We've got some acres as productive as (those in) the Midwest."
But despite the fertile soil, 2018 was a difficult year for soybean farmers. Record rainfall in July wreaked havoc with plant development. Moore said he was able to harvest his crop, but the yield was down 25 percent. And then came China's embargo on U.S. soybeans, retaliation last summer for the Trump administration's tariffs on Chinese products.
"The biggest worry are our problems with our trading partners," Moore said. "We've got to get along with everyone."
He pointed out that the international market for soybeans is complex. China is the world's largest consumer of soybeans and for years was the largest market for U.S. soybeans, but other markets exist.
"You're never going to replace what China bought in 2018," he said. "If Brazil is selling to China, then we can pick up some of their customers – India and a number of other countries."
Despite the problems of 2018, soybean will still be going in the ground later this year.
"We're still going to plant soybean. It's such a big crop to us," Moore said.
He noted that the past two years had been wetter than normal, so farmers are about due for a more typical year. And, somehow, the trade issues will get resolved, Moore said.
"Farmers, if they weren't optimists, they wouldn't be farmers," he said.