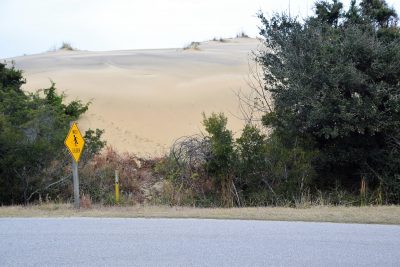 NAGS HEAD — Work was to begin Wednesday at Jockey's Ridge State Park to move 140,000 cubic yards of sand from the southeast section to the northwest corner of the park.
The project has been budgeted at $1 million, according to a representative from the state park system.
Contractor Hatchell Inc. of Manteo will perform the work that's expected to take 120 days, working mostly between 8 a.m. and 5 p.m., Monday through Friday.
The dunes, which are constantly moving in a southerly direction, are encroaching Soundside Road and nearby homes and other structures. The sand is to be relocated from near the access from Soundside Road to the northwest corner of the park near the main access on Carolista Drive, according to the North Carolina Division of Parks and Recreation.
Dump trucks will travel on Soundside Road and U.S. 158 in order to transport the sand during the work. About 3,000 cubic yards of sand is to be used to re-nourish the area near Soundside Beach access, which will likely be closed periodically.
John M. DeLucia, PE Albemarle & Associates, Ltd. in Kill Devil Hills is the project engineer for property owned by the state Department of Natural & Cultural Resource, Division of Parks and Recreation.
Residents and visitors should contact the park office at 252-441-7132 or jockeys.ridge@ncparks.gov with questions or concerns.