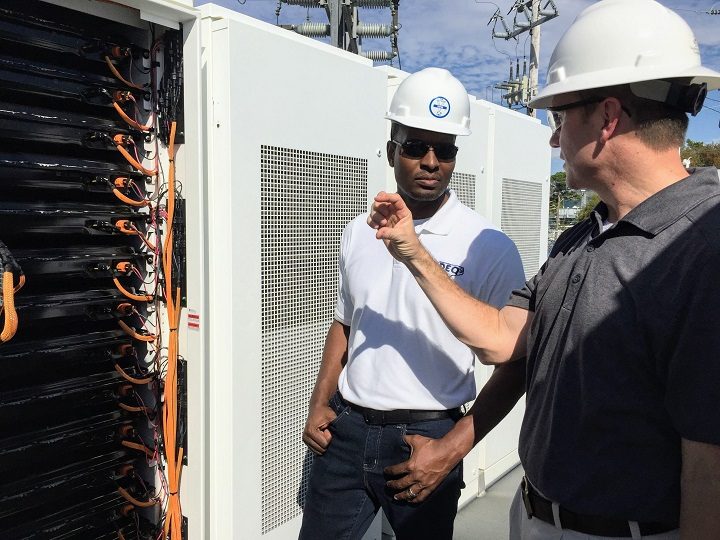 Reprinted from the Ocracoke Observer
Ocracoke's electric microgrid is serving as a laboratory for how North Carolina can embrace clean energy to become more competitive not only to attract big companies here but also to benefit consumers.
That's what Michael Regan, secretary of the Department of Environmental Quality, said when he toured the Tideland EMC facility in October.
With its combined energy sources from the main power line through the Outer Banks, rooftop solar panels, several Tesla batteries and Ecobee thermostats, the plant on Odd Fellows Lane is providing the knowledge that will lead to both cleaner and more cost-efficient energy, said Lee Ragsdale, senior vice president, grid infrastructure and compliance for the North Carolina Electric Member Cooperative (NCEMC).
NCEMC owns the power plant and Tideland, a nonprofit cooperative based in Pantego, Beaufort County, operates it, said Paul Spruill, Tideland CEO.
Ocracoke's microgrid is one of two that Regan visited. The other is Butler Farms, a hog farm in Harnett County that has a microgrid powered by solar panels and is harnessing methane from hog waste.
While Ocracoke's grid is connected to the main grid, it can operate independently.
"The co-ops of North Carolina took this on as an R&D opportunity," Ragsdale said about Ocracoke's microgrid. "We wanted to make the investment in these assets so as prices come down we'll have that working knowledge to apply throughout the state."
The DEQ is excited about this experiment, Regan told the group of Tideland and NCEMC officials.
"These rural cooperatives are living, learning laboratories," he said. "Too often we're hearing about the technological limitations from some of the larger utilities, and so this is a great opportunity for us to come out and see how advanced technology works – how cleaner energy works, how efficient energy works."
Tideland, he said, is pursuing advanced technology for all of the right reasons.
"And then there's a huge environmental co-benefit (of a cleaner footprint)," he said.
That environmental co-benefit got more traction on Oct. 29 when Gov. Roy Cooper issued Executive Order No. 80, which calls for the state to protect its environment in the face of climate change while growing clean energy technologies.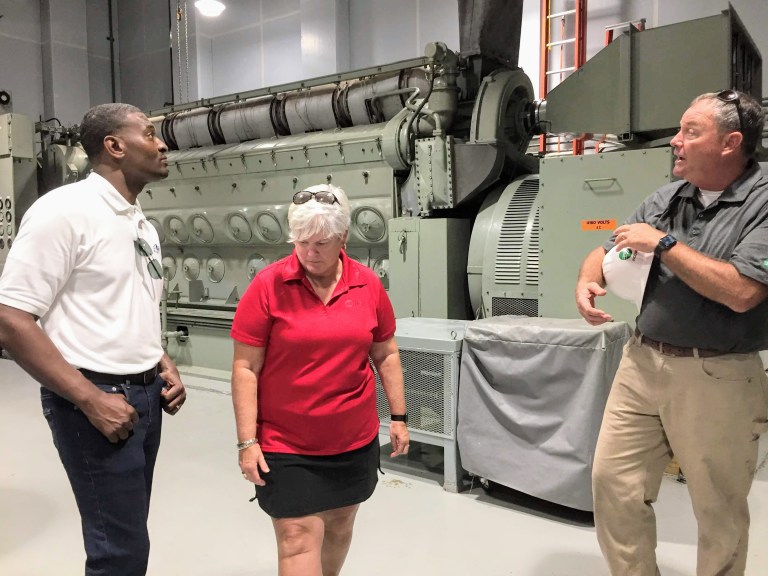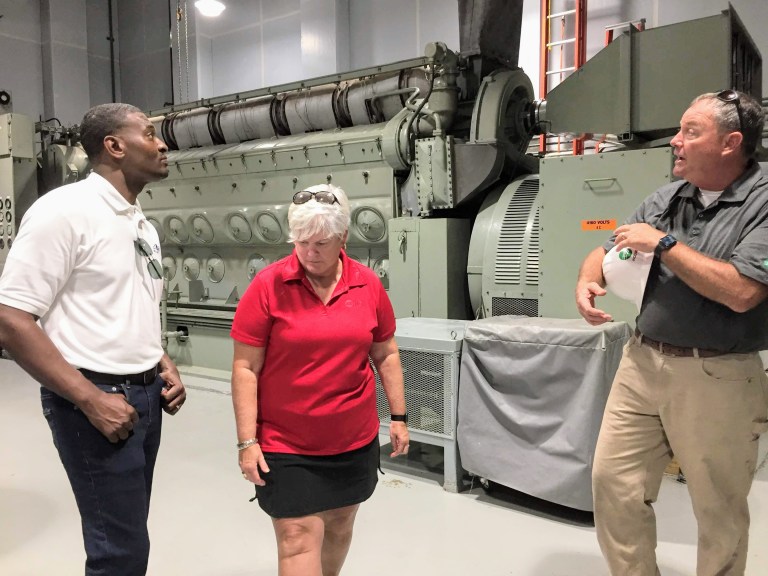 "With historic storms lashing our state, we must combat climate change, make our state more resilient and lessen the impact of future natural disasters," Cooper said in a press release.
Without the pressure of shareholders, who are the focus of the big electrical guys, rural electric co-ops can focus on both customer service and being competitive through innovation, Regan said.
"You are leading the way for North Carolina into this 21st century approach to energy delivery," he said. "I think that's pretty remarkable. If North Carolina is to be competitive, it's going to be the Dukes and Dominions trying to keep pace with what the rural electric co-ops are doing."
The microgrid does not just include the diesel generator, solar array and Tesla batteries. It also involves customers who use Ecobee thermostats that Tideland has distributed throughout the island.
These devices enable Tideland to control electric delivery during power crises and allow customers to make choices about and understand their own energy use, said Nelle Hotchkiss, senior vice president of the North Carolina Electric Cooperatives, the state trade association.
"We spend a lot of time on the educational side and use labs like these with Ecobees and water heaters as opportunities for consumers so they can make choices, understand their energy use, their appliances and how can they optimize at home," she told Regan. "Those who have the resources can make those changes, but we won't disadvantage those who can't, and co-ops are all about that."
Regan thought Ocracoke Island is the "perfect petri dish" for this research in reducing the carbon footprint and making energy delivery more efficient and more accessible to all people.
Such future choices will make North Carolina more competitive when recruiting large companies to build here, he said.
"It's just great to see this level of innovation in Eastern NC in our rural counties," he said. "All of our solutions are not coming from our urban areas."
This story is provided courtesy of the Ocracoke Observer, a newspaper covering Ocracoke island. Coastal Review Online is partnering with the Ocracoke Observer to provide readers with more environmental and lifestyle stories of interest along our coast.