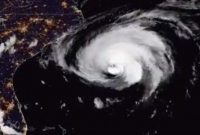 RALEIGH — The National Oceanic Atmospheric Administration is bringing to North Carolina its series of nationwide listening sessions to discuss the implementation of the Weather Research and Forecasting Innovation Act, a measure focused on improving forecasting for extreme weather signed into law last year, including the development of a community-based weather model.
The meeting will begin at 3 p.m. Thursday, Nov. 1, in the North Carolina State University McKimmon Center, room 5, 1101 Gorman St. Doors open a half hour before the session.
The public conferences are being held nationwide August through November to provide information about the implementation of the Department of Commerce's 2018-2022 Strategic Plan, and offer an opportunity to give input.
Learn More