CARY — Gov. Roy Cooper affirmed Monday North Carolina's effort to fight climate change.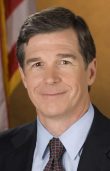 At the SAS Institute's solar farm, Cooper signed Executive Order No. 80 that calls for the state to protect its environment while growing clean energy technologies. The order also creates the North Carolina Climate Change Interagency Council that will include representatives from every state cabinet agency to follow through with the effort.
"A strong clean energy economy combats climate change while creating good jobs and a healthy environment," said Cooper in a statement. "With historic storms lashing our state, we must combat climate change, make our state more resilient and lessen the impact of future natural disasters."
The order affirms North Carolina's commitment to reducing statewide greenhouse gas emissions to 40 percent below 2005 levels by 2025, according to the release. The order also calls for an increase in registered, zero-emission vehicles, or ZEVs, in North Carolina to at least 80,000 and a 40 percent reduction in energy consumption in state-owned buildings.
The order also directs the following actions:
The state Department of Environmental Quality will develop a North Carolina Clean Energy Plan to encourage the use of clean energy, including wind, solar, energy efficiency and energy storage.
The state Department of Transportation will develop a plan to accelerate the use of zero-emission vehicles across state government. Cabinet agencies will prioritize the use of ZEVs for trips that can reasonably be made with a ZEV.
DEQ will help cabinet agencies improve their energy efficiency and publicly report utility consumption.
The state Department of Commerce will support the expansion of clean energy businesses and service providers, clean technology investment, and companies with a commitment to procuring renewable energy.
All cabinet agencies will integrate climate mitigation and resiliency planning into their policies, programs and operations.
Learn More