Reprinted from Outer Banks Voice
The remnants of Hurricane Michael plowed into the Outer Banks Thursday night, creating major soundside flooding from Duck to Hatteras and knocking out power to more than 5,000 customers.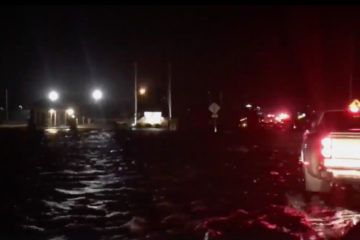 At 1 a.m., Dominion Energy reported 5,444 Dare County customers in the dark and 271 in Currituck. Tideland Electric had 223 customers out in Stumpy Point and East Lake and 2,025 customers out in Hyde County.
High winds as expected began waning around 2 a.m., but slowly.
The flood gauge at Oregon Inlet Fishing Center reached 5.4 feet at midnight. The record was 6.31 feet during Hurricane Irene.
N.C. 12 on Hatteras Island was impassable late Thursday due to flooding, water had breached the Manteo Causeway and downtown Manteo was under water at midnight. In Duck, N.C. 12 was closed south of Stan White Realty due to sound overwash.
Flood waters were reported to be at four feet in Colington late Thursday into early Friday. Major flooding was also reported in Kitty Hawk, Manteo, Wanchese and along Bay Drive.
Emergency responders were called to dozens of water rescues, including people trapped in vehicles at Camp Hatteras.
High winds continued to cause problems into early Friday morning, with downed trees and power lines across the county.
The National Weather Service reported sustained winds of 47 mph in Manteo around 9 p.m. Thursday with a gust of 53 mph.
Winds from the south steadily increased through the afternoon, with sustained gales of 30 to 35 mph and gusts over 40 mph recorded at a number of stations in eastern North Carolina.
The storm's center passed well inland as it was being tossed by a cold front into the Atlantic Ocean by Friday morning off Virginia's Eastern Shore.
The heaviest rainfall has been concentrated over central and western North Carolina, where numerous trees have also been downed and thousands are without power. Serious flash flooding has been reported in parts of Virginia.
The storm made landfall around midday Wednesday at Mexico Beach, Florida, as a strong Category 4 system, with sustained winds of 155 mph.
Michael had the third-lowest barometric pressure, 919 millibars, for a storm making landfall in the United States in recorded history.
This story is provided courtesy of the Outer Banks Voice, a digital newspaper covering the Outer Banks. Coastal Review Online is partnering with the Voice to provide readers with more environmental and lifestyle stories of interest about our coast.