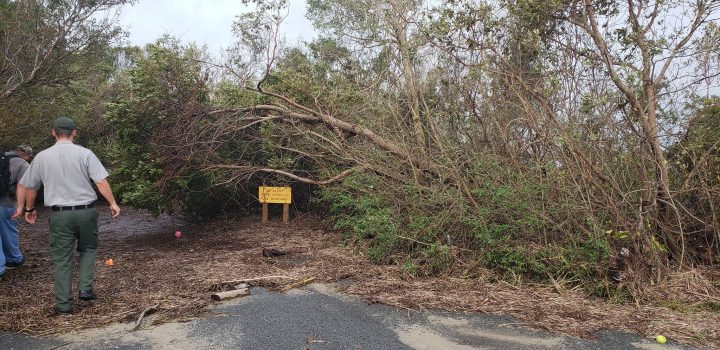 COASTAL NORTH CAROLINA — Natural areas, state parks, reserves and other public lands on the coast suffered varying degrees of damage and some remain closed as a result, including two coastal state parks.
Katie Hall, public information officer for the state Division of Parks and Recreation, said that within the first week after the storm, 29 of the 41 state parks and recreation areas were opened and as of Tuesday, all but these four are open: Jordan Lake State Recreation Area, Raven Rock State Park, Carolina Beach State Park and Hammocks Beach State Park.
She added that even in parks that have reopened, several trails and campgrounds remain closed due to damage from flooding and downed trees.
"Folks eager to get back to their favorite parks should call the park first to ensure their intended activity is available. They can visit park websites or our main site for updates on park status," she said. Adding, "Visitors should be fully informed before swimming in coastal waters, lakes and rivers at the state parks as stormwater carries pathogenic pollutants that can cause significant health impacts."
Hall said that the parks that are still closed are struggling with continued flooding and damage.
"Some of the damage is so extensive that one of our superintendents recently told me, 'We worked on cleanup for 12 hours today, looked around and it looked like we barely did a thing.' Our superintendents, rangers and maintenance staff love their parks and take great pride in them," she said. "Many of them live onsite. So, damage from Hurricane Florence is a very personal thing to them. They are working very hard to get the parks back in shape and will continue to do so."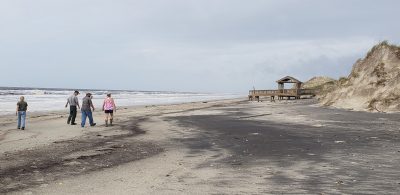 Hammocks Beach suffered damage to the visitor center and mainland area, which officials expect to open Oct. 1, according to the state park website. All campsites are closed through at least Oct. 31. Additionally, there is no ferry service for the rest of the year at the park and the kayak launch is closed due to damage.
Sarah Kendrick, Hammocks Beach park superintendent, told Coastal Review Online that the greatest park damage from the storm was from downed trees on the mainland and on the undeveloped Bear Island, as well as erosion on the 3-mile-long barrier island only accessible by ferry, kayak or canoe.
Kendrick said there was some structural damage to the boardwalk on Bear Island, all of the docks and some of the buildings on the mainland.
She said the park staff have some work ahead. "We're still working on removing some of the larger trees – we did a lot of that this week and last week – and there's still work to be done on the mainland."
She said they hope to clean up Bear Island, where marine debris and pieces of docks washed up during the storm.
For return visitors, "It's going to look different the next time they see it," she said, because Bear Island lost its primary dune line and the second line was being eaten away.
"It will look different and may look shocking, but that's what it's there for, (the barrier island) did its job," she said. "The barrier island served its purpose and will be a good educational tool for us to use."
State park officials in a release explained that the public should not enter closed parks or closed-off areas in parks while staff clear storm debris and safety hazards.
Coastal state parks open include Fort Macon State Park in Atlantic Beach, which opened Monday, though the exhibit rooms in the fort remain closed until further notice. The visitor center, campgrounds and beach area are now open at Goose Creek State Park in Washington but the trails remain closed due to flooding. Lake Waccamaw State Park and most of the campground is open.
On Monday, the following eight of the 10 North Carolina Coastal Reserve and National Estuarine Research Reserve reopened to visitors:
Currituck Banks Reserve near Corolla.
Kitty Hawk Woods Reserve.
Emily and Richardson Preyer Buckridge Reserve near Columbia.
Buxton Woods Reserve on Hatteras Island.
Rachel Carson Reserve in Beaufort.
Masonboro Island Reserve near Wilmington.
Zeke's Island Reserve near Kure Beach.
Bird Island Reserve near Sunset Beach.
Visitors should use caution and be aware of the risk of potentially hazardous conditions associated with storm damage at these sites, according to a release Monday from the organization. This includes an advisory against swimming because of pollution associated with the storm.
Due to heavy rains from Hurricane Florence and associated pollution, swimming at our Reserve sites from #RachelCarsonReserve in Carteret County and southward is not advised. https://t.co/QjioopPUUE

— N.C. Coastal Reserve (@NCReserve) September 25, 2018
The Permuda Island Reserve near Topsail Island and Bald Head Woods Reserve on Bald Head Island remain closed to visitors until site assessments are completed. Updates are to be posted on the Coastal Reserve's website and via its Facebook and Twitter accounts.
Rebecca Ellin, Coastal Reserve program manager, said that the sites are natural areas and "By their very nature they're able to weather storm events, as any natural area would."
She added that the site may look different now because natural features may have changed as a result of the storm. The reserve sites with sandy beach-type areas experienced erosion and depositions.
"We're encouraging visitors to be cautious when they're out and about," Ellin said, because there may be hazards. There are missing signs, trails and boardwalks may have damage or be inaccessible and there's a great deal of marine debris.
The reserve is still in the assessment phase and officials are not certain the kind of marine debris they're looking at, she said. Also, there are grounded vessels on two sites the reserve is working with the Coast Guard and the National Oceanic and Atmospheric Administration to have removed.
National Parks
Portsmouth Village had no major damage from Hurricane Florence but remains closed to visitors, as well as the rest of Cape Lookout National Seashore.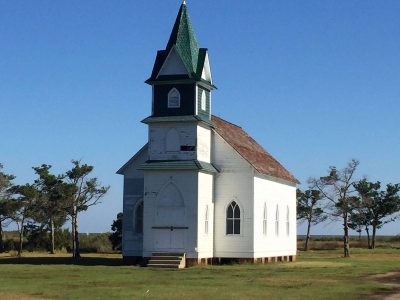 All visitor facilities and services are closed, according to the park service, and a reopening schedule is not available at this time.
Cape Lookout National Seashore Superintendent Jeff West visited the village last week after the storm to assess the historic site, the Ocracoke Observer reported.
The Portsmouth Methodist Church and the U.S. Life Saving Station fared well but three structures were lost: the modern Armtech building, a modern fishing shed and one of Henry Pigott's out buildings, West said. Shingle, siding and window damage is throughout the village, but relatively minor. The water level only came up to the floor level of the post office, he said, and the haulover dock was undamaged.
The National Park Service Incident Management Team provided an update Tuesday to previous reports on the status of Cape Lookout. Temporary repairs of docks at the visitor center were underway Sunday and continued Tuesday. Cape Lookout Lighthouse had not been working at the time of the Sunday report but was repaired and operational by Tuesday.
Long point cabin reservations have been canceled through the season and for great island cabins through Oct. 25, according to the Tuesday report. Depending on the results of the final assessments, cancellations may be extended.
Per the report Sunday, the Harkers Island Visitor Center had minor roof damage that had been repaired, and power had been restored to the building. Trails at the visitor center were 80 percent clear but the boardwalk remained closed due to damage. Natural resources staff began sea turtle surveys on Shackleford Banks Sunday and the Shackleford horse survey was planned to begin Monday.
Initial assessments at Les and Sally, Cape Lookout Lighthouse and Historic Cape Village were completed Sunday, and emergency stabilization to the damaged structures at the Les and Sally area and Historic Cape Lookout Village are now complete, according to the Tuesday report.
Additionally, as of Tuesday, staff identified two miles of Back Island Sand Road on North Core Banks that will need to be rerouted and staff will continue to survey and flag Back Island Sand Road on South Core Banks.
The majority of visitor services and facilities at Cape Hatteras National Seashore, Fort Raleigh and Wright Brothers National Memorial reopened Sept. 16. The Hatteras Island Visitor Center reopened and the Cape Hatteras Lighthouse reopened for climbing Sept. 17.
The Wright Brothers National Memorial visitor center grand reopening has been postponed until Oct. 20 due to delays caused by Hurricane Florence. Entrance fees are to be waived on that day.
Mike Barber, public affairs specialist for National Parks of Eastern NC, said that Cape Hatteras National Seashore was mostly spared from Hurricane Florence's strong winds and rain and that the Wright Brothers National Memorial and Fort Raleigh National Historic Site did not sustain any damage from Hurricane Florence.
"The north end of Ocracoke Island did sustain some damage to the dunes along NC 12 and to the road itself," he said, adding that state Department of Transportation and National Park Service heavy equipment operators "have been working hard to make the north end of Ocracoke Island safe again for travel. The island has reopened to visitors using the Swan Quarter and Cedar Island ferry routes. The Hatteras to Ocracoke ferry route will hopefully be reestablished soon."
Moores Creek National Battlefield in Pender County is closed and a reopening schedule is not available, the park service reported Sunday. Five of the six battlefield monuments are in flood waters but the historic cannons were moved to higher ground prior to the storm and are in good condition.
Additionally, water levels from the Black River will need to recede before formal assessments and stabilization can begin and that remains the case according to the Tuesday update from the National Park Service. Flood waters receded by about 1 foot but more than half of the park remains flooded, debris removal from the visitor center parking lot and entrance road was completed and additional work in administrative areas will continue until water recedes from public areas.
Re-nourished Beaches Hold Up
Carteret County's beaches that have been included in re-nourishment projects in recent years fared better than those that were not included.
Greg "Rudi" Rudolph of the Carteret County Shore Protection Office said Friday that the areas of Bogue Banks between Fort Macon and the Atlantic Beach amusement circle, where the Army Corps of Engineers has placed sand three times since 2011, fared far better in terms of erosion and escarpment than the stretch of beach from Atlantic Beach to Emerald Isle. The beach areas were surveyed over three days late last week and the office posted a preliminary assessment Sept. 16.
While there was significant beach and incipient dune erosion and limited frontal dune erosion, there was no flood damage to oceanfront structures, nor any breaches of the frontal dune, according to the assessment. Structural damage was limited to walkways only.
"All that new sand that we put on the beach over the past couple of decades or so and all the new dunes there since then really acted as a shock absorber," Rudolph said. "If you look at (conditions after Hurricane) Floyd and look at Florence at the same spots, it's completely night and day."
Rudolph said Tuesday that surveying of the county's beaches had been completed but it would take about a week to process the data, and then time to compile a report on the data.
"Obviously, we are very interested to see how far down the beach slope the sand went. We lost a bunch of dunes and berm and (the question is) is it just offshore or is it way offshore? We've seen it do both in different storms," he said.
Rudolph has posted video of the post-Florence surveys on the Shore Protection Office's YouTube channel.


Jennifer Allen and Mark Hibbs contributed to this report.