Updated 2 p.m. Friday: Division of Marine Fisheries Friday announced by proclamation that the following areas will to return to normal closure boundaries effective sunrise Saturday:  Ocracoke Island, Hatteras Island, Roanoke Sound and a portion of Pamlico Sound. The waters in the following counties will remain closed: Brunswick, New Hanover, Pender, Onslow, Carteret, Craven, Pamlico, Beaufort, and parts of Hyde and Dare counties.
Map reflecting current closure status.
Reprinted from Outer Banks Voice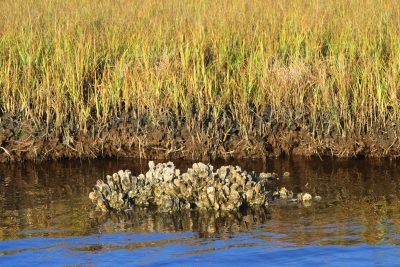 OUTER BANKS — With the massive amounts of floodwater flowing through the sounds and coastal rivers of North Carolina from Hurricane Florence, the harvesting of oysters and clams had ground to a halt.
If testing this week of the waters from Ocracoke to Manteo comes back safe, shellfish producers in Dare and Hyde counties could be able to harvest their mollusks and start sending them to market again as early as Saturday.
The North Carolina Division of Marine Fisheries issued a proclamation on Sept. 11 stating that beginning Sept. 13, the harvest of oysters, clams or mussels from state waters by commercial and recreational interests was banned.
High season for North Carolina shellfish is traditionally considered the months with "R" in them, so the closure hit just as things start to really get busy.
"We have about 20 different varieties we sell, and around half of them are from North Carolina suppliers," said Daniel Lewis, owner of Coastal Provisions in Southern Shores, which touts the largest selection of North Carolina oysters of any Outer Banks restaurant.
His staff was at the State Farmers Market in Raleigh last Tuesday, scooping up the last of the Down East oysters that were harvested right before the storm.
For some producers, especially those at the mouth of rivers that are still experiencing record-breaking flooding, the entire fall and early winter could be lost.
"They are filter feeders, so they take into their bodies whatever is in the water," said DMF spokesperson Patricia Smith.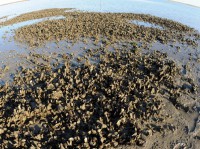 That means the "black water" from all the septic tanks, sewer systems, hog lagoons, factories, vehicles and whatever else has been flooded by Florence eventually ends up in coastal waters and is consumed by oysters and clams that are just doing what they do naturally.
Eventually as the water clears, so will the shellfish, as they filter the toxins out with clean water. But it could be months before that happens.
For shrimp, crabs and finfish, the situation is less tenuous. For the most part, they just move out of the way to cleaner water. No closures are anticipated for those fisheries.
With the majority of the runoff below the middle and upper Pamlico Sound basin, shellfish producers along Ocracoke, Hatteras, Bodie and Roanoke islands and the adjacent mainland may have lucked out.
The harvest and consumption of oysters and clams from above the northern tip of Roanoke Island, and many of the ditches, canals, creeks, and bays along Dare and Hyde counties is permanently prohibited.
Smith said the air conditioning at the division's main offices and labs in Morehead City failed right after the storm, and that prevented testing to take place until it was repaired.
And it will be early next year before the long-shuttered water quality testing lab in Nags Head can reopen, Smith noted.
Smith said inspectors were sampling Dare and Hyde waters on Wednesday, allowing for a day of travel back to Morehead City, the shellfishing could resume north of Ocracoke by Saturday.
Once that happens, Lewis said, he will be stocking up again with fresh Outer Banks Catch oysters just a soon as they can get them out of the water.
Learn More
This story is provided courtesy of the Outer Banks Voice, a digital newspaper covering the Outer Banks. Coastal Review Online is partnering with the Voice to provide readers with more environmental and lifestyle stories of interest about our coast.