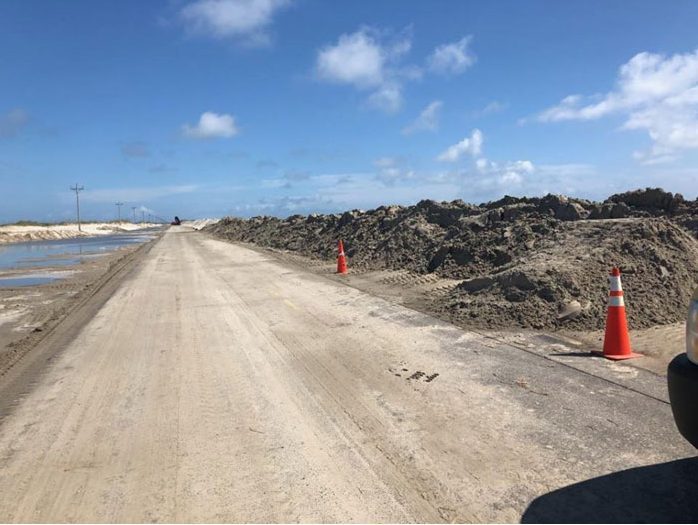 Reprinted from Island Free Press
OCRACOKE ISLAND — Despite some additional ocean over-wash of the highway Wednesday morning from a low-pressure system off the coast, the North Carolina Department of Transportation's Ferry Division announced Wednesday that plans were still in place to reopen the Hatteras-Ocracoke ferry to the public Friday .
"Weather and tides permitting, we still hope to have the road open on Friday, with the Hatteras-Ocracoke ferry route resuming service at the same time," according to an online statement from the ferry division. The Facebook post continued that there will be a more definitive answer on timing  available Thursday.
The ferry has been closed since Hurricane Florence brushed the Outer Banks Sept. 13-14, causing oceanside flooding that affected more than a mile of the northern section of N.C. 12 on Ocracoke Island. Portions of the pavement were flooded and subsequently damaged, while a large section of the oceanfront dune bordering the highway was wiped out.
Immediately after Florence hit the area, an emergency contract was initiated with Barnhill Contracting Co. of Kitty Hawk and crews have been working to remove sand and debris and repair the road.
Once the road has been repaired and has reopened, the crews will then concentrate on re-establishing the dune line that protects N.C. 12, which is scheduled to be completed by Nov. 30.
The Hatteras-Ocracoke ferry has been making limited runs to haul equipment and crews to the repair sites along N.C. 12. Currently, visitors and residents can access Ocracoke Island via the Swan Quarter Ferry and the Cedar Island ferry, which have both reopened to the public.
Hyde County has also started running the free public tram service on Ocracoke Island for walk-on ferry passengers, with trams cycling around the village every 30 minutes.
This story is provided courtesy of the Island Free Press, a digital newspaper covering Hatteras and Ocracoke islands. Coastal Review Online is partnering with the Free Press to provide readers with more environmental and lifestyle stories of interest along our coast.