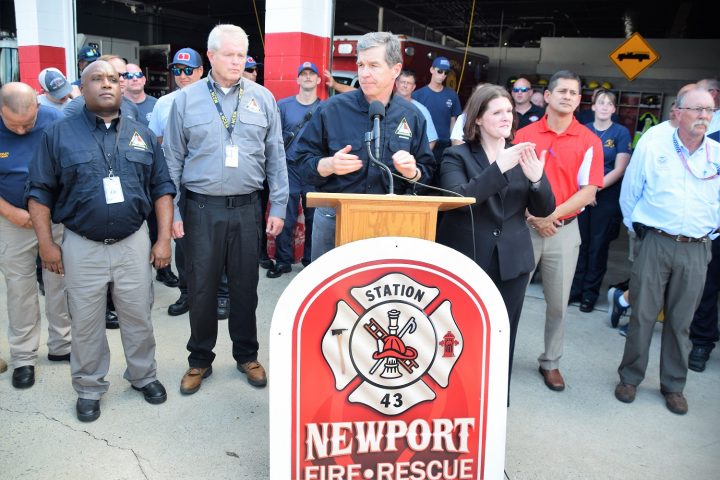 NEWPORT – Gov. Roy Cooper made an appearance here in Carteret County Wednesday following a tour of storm-ravaged Craven County with President Donald Trump earlier in the day.
Cooper, who visited the town fire station Wednesday with state transportation and emergency management and federal officials, said he and the president spoke at length about North Carolina's needs in the wake of Hurricane Florence. Cooper said he told the president that the state needs significant resources to recover and will for some time.
"After the cameras leave, after the hot-white focus leaves this area, people will still have flooded homes and people will have businesses that aren't started up and roads will still be closed and damaged. So, we're going to need significant resources to recover and I emphasized that to him over and over again. He promised 100 percent support and we're going to hold them to it," Cooper said at a podium placed just outside the firehouse's bay doors.
Cooper said he told the president that the Federal Emergency Management Agency's help could address immediate needs and temporary housing. "We also talked about long-term housing, both through FEMA, and through other federal funding," the governor said. "We talked about (the Department of Housing and Urban Development's) Community Development Block Grant disaster relief funding to help with housing. And we also talked about highway, bridge construction where we know we have significant infrastructure issues to address."
Cooper said he had also been in close contact with members of Congress and state legislators. He also talked about the continuing effects of the storm and ongoing efforts to ensure the public is safe.
"I know the people of North Carolina are still suffering from this horrible storm that has taken so much of a toll," Cooper said. "Even as we speak we have 13 rivers in North Carolina at major flood stage. So we're continuing to work to get people safe and secure. Our first responders are out there making sure people are safe and secure and that will continue to be a priority.
"I also know that communities like this one have been stunned at the breadth of the damage that has been done. I've talked to people that have lost their entire home, people who really don't know what to do with the fact that their business has been washed away, farmers who had a majority of crops in their field that they were not able to harvest in time. We know that we're a state that is hurting. But one thing I know is that North Carolinians are strong. North Carolinians are resilient."
Cooper said that he had seen so many working to help one another, in addition to the government assistance already in action.
"Our local, state and federal partners are pulling together and working in a coordinated way to make sure we help people, and neighbors are helping neighbors," Cooper said. "Communities of faith are stepping up. I talked to one woman whose house had been destroyed. She was out serving meals to other people.  That is the spirit of North Carolina and that is the spirit that I am witnessing across this state."
The governor said shelters remain open across affected areas of the state, including some here. He said there are about 7,800 people in those shelters.
"We still have close to 200,000 who are without power, some of them in this community. I've been assured by the electric co-ops and by other utilities that they are going to work as hard as they can to get power back as quickly as possible," he said.
Cooper said the North Carolina Department of Transportation is working to clear routes to make sure that food, supplies and other help can get to those in need.
Director of Emergency Management Mike Sprayberry joined Cooper and others at the podium. Sprayberry said the state Emergency Operations Center remains activated at Level 1. "That means we have all of our federal, state, private-sector and volunteer partners activated on a 24-hour basis. We know you're hurting out here, it's been a tough time. It's been unprecedented," he said.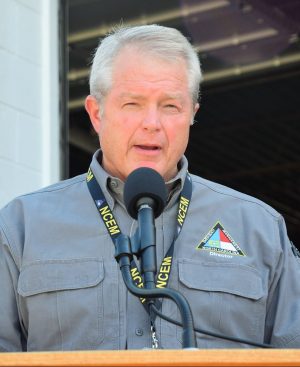 Widespread search and rescue operations were continuing in southeastern North Carolina and up the coast, Sprayberry said. The N.C. National Guard and U.S. Coast Guard as well as task forces from other parts of the state and other states for search and rescue had assisted in many of those operations.
So far, five mass-feeding kitchens were in place and teams were about to set up four more. All 911 centers are operational, Sprayberry said.
State Deputy Secretary of Transportation Bobby Lewis said that NCDOT had made significant progress in clearing roads blocked by storm debris. At the peak more than 2,200 roads were closed, he said. Now fewer than 900 remain, but some areas are still experiencing major flood conditions, including U.S.70 and U.S. 258 in Lenoir County, conditions that are expected to continue through the weekend.
"We're not out of the woods yet," Lewis said. "And we're still committed to provide as much as access to the transportation network as possible, but I still caution everybody on trying to return back to their homes."
All state ferry routes are open but are running on restricted schedules, as posted online.
Two state ferry division vessels laden with recovery supplies and fuel departed Cherry Branch Tuesday for Southport to help Brunswick and New Hanover counties, Lewis said.
Going Door to Door
Albie Lewis, federal coordinating officer with FEMA, was also on hand Wednesday. He said federal resources were on the way.
"You will see disaster survivor assistance teams out on the street going door to door, making sure that folks are registered, those heads of household and those renters that need assistance," Lewis said.
He urged those who need assistance to call 1-800-621-FEMA,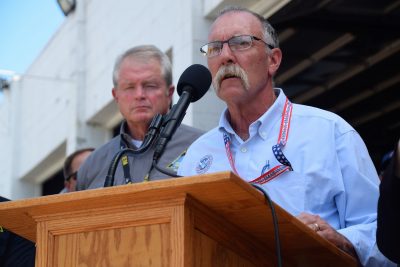 Already more than 40,000 are registered in North Carolina with more than $400,000 approved for survivors, Lewis said.
"We're here for the long haul," he added.
Sprayberry said there would also be door-to-door efforts on the part of the state to get people to register for assistance. "You'll see that aggressively in the coming days," he said.
Cooper added that there had also been door-to-door search and rescue operations, particularly in flooded locations to be sure no one had been left behind.
"I'm glad that many people abided by the evacuation orders. I have no doubt that saved many lives for people not being where this water came."
County Response
Carteret County Board of Commissioners Chairman Mark Mansfield was also at the governor's appearance. He said the county has many needs, but some services were already back in operation.
"We finally got trash back up and operating, that's been a big deal. We've been without that, but we got those sites opened up yesterday," Mansfield said Wednesday. "We're going to have a ton of storm debris. We've got a lot of people who've taken a lot of roof damage, and we've had a lot of people who had flooding come up in their house and we've had a lot of people flooded 30 inches through their house. There are trees down everywhere, half the county is still without power – for almost a week half the county was without power. That affects septic tanks, wells.
County Vice Chairman Robin Comer agreed. He said Hurricane Florence wasn't like storms of the past.
"In looking at past storms, everybody relaxes when it's all over. They take a sigh of relief," Comer said. "This storm, you're not going to be able to do that. With power being gone for weeks, you're going to have sanitation issues, you're going to have elderly getting sick, you're going to see pneumonia – I mean the worst is yet to come. We're going to have to stay on this thing and now it's time to kick it up a notch and not relax.
"This recovery is going to be a marathon, not a sprint," Mansfield added.
Commissioner Jonathan Robinson said he was pleased to see how county residents had responded.
"I appreciate the good-heartedness of our neighbors and the fact that we're all pulling together," he said.