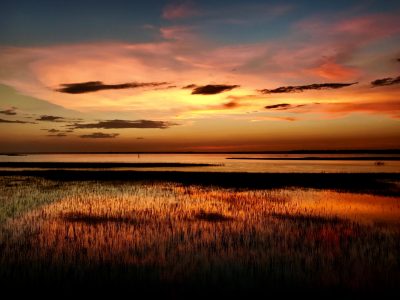 NORTH CAROLINA COAST — Have an eye for nature photography?
If you have any images from the four National Reserve Sites in the state, the National Oceanic and Atmospheric Administration Office for Coastal Management wants you to submit your work to its third annual photo contest that is part of recognizing National Estuaries Week, Sept. 15- 22.
Estuaries are where rivers meet the sea, creating brackish, or partly salt, waters and provide a safe and protective nursery for small fish, shellfish, migrating birds and coastal shore animals, according to the coastal management website.
Photos can feature education, research, recreation, beauty and photos of folks smiling at  Currituck Banks Reserve, Rachel Carson Reserve, Masonboro Island Reserve or Zeke's Island Reserve national estuarine research reserves plus the about two dozen more coastal sites in the United States.
NOAA Office for Coastal Management is hosting its third annual photo contest of images from a national estuarine research reserve. Photo submission deadline is Aug. 31.
These photos can feature education, research, recreation, beauty and photos of folks smiling in the reserve, which is new category this year, within the reserve.
Winners will be chosen by a panel of judges and will be featured in our social media campaign during National Estuaries Week.
To enter, submit no more than 10 photos, a minimum than 1200 pixels wide but bigger is prefered, to CM.NERRS.PhotoContest@noaa.gov. Submit photos under the categories "Learn," "Work," "Play," "View" and "Smiles."
All images must include the photographer's name, a short description of when and in which national estuarine research reserve the photo was taken, and what is shown in the photo. The National Estuarine Research Reserve System is a network of 29 coastal sites designated to protect and study estuarine systems. Established through the Coastal Zone Management Act, the reserves represent a partnership program between NOAA and the coastal states.
During National Estuaries Week in September, reserves will host events throughout the week to build awareness of the important benefits provided by estuaries. Visit the National Estuaries Week website to find out more about scheduled activities.
Learn More