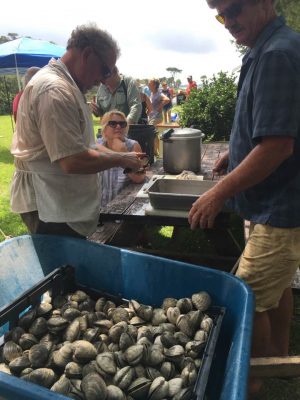 GLOUCESTER — Celebrate fresh seafood and produce, homegrown music and Down East Carteret County heritage during the seventh annual Wild Caught Local Seafood and Music Festival Friday and Saturday.
Presented by Accidental Productions, Wild Caught will take place at the Gloucester Community Center, 476 Pigott Road.
Musical performances will be from 7-10 p.m. Friday and noon-10 p.m. Saturday. Artists scheduled to perform include the Unknown Tongues, Lost Girls, Gary Dudley and the Maxxtones, Beaufort Blues Project and others. Connie Mason will serve as emcee and perform throughout the celebration.
Saturday afternoon local seafood will be cooked and served, including charcoal mullet, shrimp and all the fixings. Covered dishes are welcomed.
Organizers encourage attendees to bring a chair, umbrella, bug spray and something to drink but no pets.
The event, funded by donations and sponsorships, is free to attend. Call 252-729-8021 to sponsor the event or donations can be made to Accidental Productions, P.O. Box 91, Gloucester, N.C. 28528.
Music Schedule
Friday
7 p.m. Holland Revival
8:30 p.m. Gary Dudley and the Maxxtones
Saturday
1 p.m. Marsha Harris
2 p.m. YOSE
3:30 p.m. Common Interest
5 p.m. Lost Girls and Friends
6:30 p.m. Beaufort Blues Project
8 p.m. Unknown Tongues
Learn More