Officials announce Thursday the launch of the North Carolina Shellfish Initiative, modeled after a national effort focused on the social, economic and environmental value of shellfish.  Video: Mark Hibbs
MOREHEAD CITY – There's a plan by some to soon market North Carolina as "The Napa Valley of Oysters."
With the launch Thursday of the North Carolina Shellfish Initiative during an event at North Carolina State University Center for Marine Sciences and Technology, or CMAST, they're one step closer.
The first state in the Southeast, North Carolina joins Washington, Connecticut, Alaska and Rhode Island in modeling a program based on the National Shellfish Initiative, organized by the National Oceanic and Atmospheric Administration.
In addition to NOAA, initiative partners include the North Carolina Coastal Federation, North Carolina Division of Marine Fisheries and North Carolina Sea Grant. The initiative aims to create jobs, protect water quality, protect shellfish health and ensure sustainable management.
North Carolina Department of Environmental Quality Secretary Michael Regan explained that he spends more time than he had expected focusing on fisheries issues.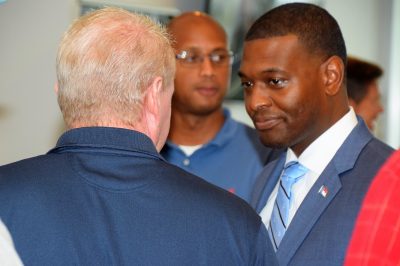 "Passionate voices fill the discussion around this industry because it's an integral part of our culture, our economy and the protection and the enhancement of our natural resources," he said.
The event Thursday demonstrates that environmental protection and economic prosperity are not mutually exclusive but go hand in hand, he continued.
"Without a doubt, it is impossible, or hard to imagine North Carolina without the industry and tradition that surrounds our oysters and mariculture," Regan continued.
With the new state shellfish initiative, "I see an outstanding opportunity for DEQ, the state, county officials and NOAA to leverage all of our resources to focus on rebuilding and improving the shellfish industry," Regan said
"Gov. Cooper also recognizes the benefit of this industry to our entire state, not just the coast. Investing in shellfish restoration and mariculture are good for the coastal economy, the state economy and again, environmental protection and the enhancement of our natural resources," Regan said.
"Joining the NOAA National Shellfish Initiative confirms that North Carolina is making a notable progress in rebuilding our shellfish resources and provides a catalyst for our state's oyster industry at all levels of government," he said. "It also makes North Carolina more competitive for federal shellfish and coastal restoration investment."
Regan said that by investing the time, money and effort into the partnership, "we are continuing our journey to ensure that these resources last for generations to come."
Will Best, coordinator for special projects with the North Carolina Department of Commerce, highlighted some of the economic opportunities this initiative is expected to offer.
"Shellfish mariculture development provides opportunities for increased economic resiliency, revitalization of our working coastlines, and support for healthy ecosystems for food, recreation and commerce," he said.
He continued that the state is currently home to a number of marine science facilities and institutions that play a vital role in protecting the coastline and solving major problems involving the coast, oceans and shellfish and the industry. "They provide advanced technology and work together with partnerships such as Department of Commerce and DEQ to make shellfish mariculture improve and grow and continue to grow."
This in turn provides opportunity for jobs, which the Commerce Department is focused. He said an example is the Pamlico Sound where 56 jobs were created in oyster restoration projects.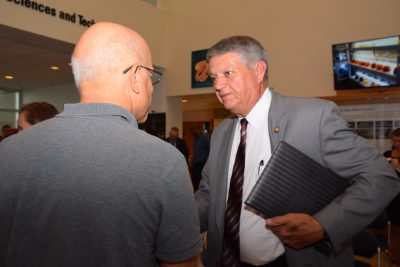 Sen. Norm Sanderson, R-Carteret, Craven and Pamlico, said that over the last several years the North Carolina General Assembly has realized the importance of investing in and rebuilding the state's oyster industry.
"We have invested funds to increase our state's shellfish harvest and to support the men and women who are pioneering this old, but now new again, industry on our coast," he said.
"We have provided millions of dollars to rebuild the sanctuary of oyster beds in the Pamlico Sound. … We have increased investment in cultch planting along the coast to ensure our wild oyster harvest remains strong," Sanderson continued, referring to the process by which shells and rock are placed in coastal waters to enhance shellfish habitat in potentially productive shellfish areas. "We have also increased funding state agencies that regulate the oyster industry with more to come.
"I promise you that my colleagues and I in the Senate and in the House will continue to do everything that we can to support you and to help make the oyster industry prosper in our state," Sanderson said.
Ken Riley, a marine ecologist with NOAA, thanked the partners for helping lead and steer the effort toward this statewide initiative. "North Carolina is the sixth state in the nation to take on its own state-led initiative that aligns with our national shellfish initiative. It's the first in the Southeast region and oysters, both in restoration and aquaculture, are big business and a bright future for North Carolina," he said.
Shellfish are great potential for a prosperous future for the coast, said Todd Miller, director of the Coastal Federation. "They are the best indicators of the health of our coastal environment and they can help grow our coastal economy in ways that are sustainable for both coastal residents and the natural environment," he said. "The initiative we are here today to launch will help us achieve these outcomes by providing more resources and talent that we all need to restore healthy populations of shellfish and to cultivate shellfish farming in a way that benefits both our coastal environment and its people."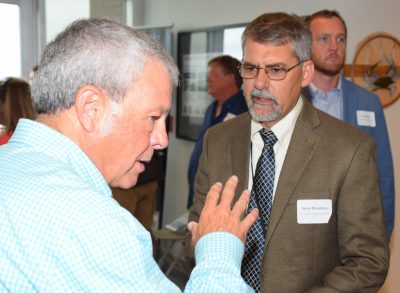 Steve Murphey, director of the Division of Marine Fisheries, said that DMF has a long tradition of shellfish enhancement and mariculture. Today, mariculture oysters represent just under 50 percent of total oyster harvest, so the potential is huge for the industry, though it does come with growing pains that are being addressed, such as public trust issues, Murphey said.
Executive Director of North Carolina Sea Grant Susan White said the state and federally funded conservation and education program is proud to be a partner in the shellfish initiative.
Chuck Weirich is the aquaculture specialist for North Carolina Sea Grant and spoke briefly about the work. He said there is a great deal of interest in shellfish aquaculture and they work with a number of producers to provide research-based information for potential and existing growers.
Ryan Bathea, owner of a small farm by Cape Lookout called Oysters Carolina, said that the expected funding will increase opportunities in the shellfish industry.
"You'd be surprised how excited kids are about oysters," Bethea said, "kids that aren't normally interested in a lot of things are pretty excited about oysters and aquaculture and it's really going to help us get our next generation in."
After the event, White praised the partnership among NOAA, the state and the nonprofits. "I think that's really something that's going to strengthen the initiative. All those pieces really do have to be in place, and then with the industry leaders coming in, I think that actually will strengthen, moving forward, where we're going to see the initiative grow."
Following the presentation, Murphey said there is great potential here, adding that the initiative will provide additional tools, such as planning and education.
Also attending was North Carolina State University doctoral student Olivia Caretti, who is studying cultch reefs in the Pamlico Sound.
"I think this is really exciting to see the policymakers, the managers, the scientists doing the research on these projects and the commercial fishermen and growers coming together on this issue and working together to move forward," she said about the launch of the state shellfish initiative.
Wading nearly chest-deep in Bogue Sound that morning outside the CMAST building was Christian Bayer of My Lord Honey Seafood based in Beaufort and an aquaculture student at Carteret Community College. He was working with shellfish-growing gear in the water during the event.
Bayer said he's been in the aquaculture industry for about five years, and My Lord Honey Seafood owns about five farms in waters across Carteret County.
"I hope that (the initiative) has a big impact on us. I hope to see that more people become interested in shellfish aquaculture and I hope that it helps the environment as well, because they're filter feeders constantly cleaning the water," Bayer said. "The way I look at it, hopefully all around it will be major benefit."
Learn More