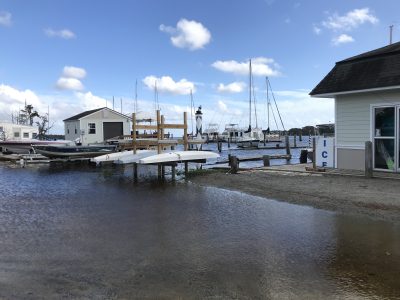 Due to the lunar perigee on Friday and the super new moon Saturday, higher than normal water levels are being predicted next week, the North Carolina King Tides Project announced Monday.
The North Carolina King Tides Project, a citizen science initiative to document high tide events using photos, is asking those who experience king tides to snap photos of high water and email the images to NCKingTides@web.unc.edu.
This will be the last King Tide event of the year, according to the calendar on the King Tides website.
King Tides is a non-scientific term used to describe the predicted highest high-tide and lowest low-tide events of the year. King tides are regular and predictable events that occur when the sun, Earth and moon are in alignment and the moon is at its closest point to the Earth, the website continued.
The photos will help North Carolina King Tides Project better understand storm, tidal and wind-driven flooding in the area. The photos will also be used to better inform community planning and help envision future vulnerabilities to high water levels.
Submitted photos can help with visualizing how "normal" high tides could look in the future as sea levels rise. By visualizing these higher tide events, researchers can better understand how rising sea levels will affect local resources and community investments.
Tides information for your area may be available at the following sites:
Track water levels for the following locations:
Learn More