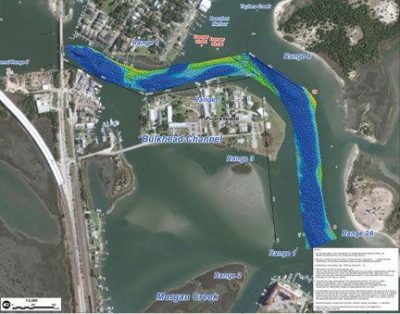 CARTERET COUNTY — The Army Corps of Engineers plans several dredging projects here, the Carteret County News-Times reported. 
The Corps' dredge, Currituck, was in Oregon Inlet early last week and later made its way to Bulkhead Channel, which is from outside the North Carolina Port of Morehead City to the Morehead City-Beaufort high-rise bridge. This dredging project is expected to be finished by the end of the month.
The channel work is estimated to cost $150,000-$200,000, including the two-thirds state match. A combination of town and state money is to go toward funding the project.
The Corps is also scheduled to dredge the channel that leads to the Coast Guard Station at Emerald Isle. The Coast Guard requested that work and will pay for it.
Other planned dredging projects in the county include the following:
Homer's Point Channel: The contract is for $66,000 and the project is expected to take place Sept. 4-28. About 1,000 cubic yards of material is to be disposed at the Old Salter Path Campground property.
East Taylor's Creek: The project will is to realign and deepen the channel.
Wainwright Slough: The project is in the design stage for channel corridor.
Atlantic Harbor: This project is in the final stages of engineering design.
Deer Creek and Old Ferry Channel in Cape Carteret: In the preliminary design phase, the county expects to submit soon a proposal for engineering and environmental services.
The county is hoping for or has already received grant funds from the state to help pay for these projects.