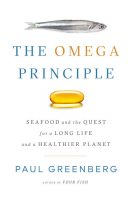 BEAUFORT — New York Times bestselling author Paul Greenberg will speak about his new book, "The Omega Principle: Seafood and the Quest for a Long Life and a Healthier Planet" 6 p.m. Tuesday, July 31, in Duke University Marine Lab auditorium, 135 Duke Marine Lab Road.
In "The Omega Principle," Greenberg investigates the history, science and business behind omega-3 fatty acids, the story of which is intertwined with human health and the future of the planet.
Greenberg, author of "Four Fish" and "American Catch," is the winner of a James Beard Award for Writing and Literature, a Pew Fellow in Marine Conservation and the writer-in-residence at the Safina Center, according to the university. He has been featured on "Fresh Air with Terry Gross," TED and is the subject and co-writer of the 2017 Frontline PBS special "The Fish on My Plate."
This summer, Greenberg is co-teaching a course at Duke University Marine Lab.
The author will be available for book signings, available on site for cash purchase only, after his talk.
Persons with disabilities who anticipate needing accommodations or who have questions about physical access can contact Courtney Edwards at Courtney.Edwards@duke.edu before the event.
Learn More