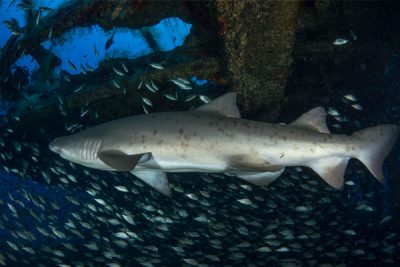 PINE KNOLL SHORES – Spot A Shark USA wants your help saving sand tiger sharks.
The Sand Tiger Shark Consortium — a joint effort of North Carolina aquariums, Duke University Marine Lab, UNC Coastal Studies Institute, zoos and other national and international agencies — has launched Spot A Shark USA, giving citizens a chance to engage in sand tiger shark conservation efforts by uploading shark imagery.
Divers, snorkelers, and others are asked to photograph encounters with sand tiger sharks and post their images to the Spot A Shark USA website.
Due to a population decline of more than 75 percent in the late 1980s and 1990s, sand tiger sharks along the East Coast and Gulf of Mexico are listed as Species of Concern by the Endangered Species Act, according to a release from the aquarium in Pine Knoll Shores. 
Spot A Shark USA serves as a way to help fill in gaps about this species' recovery process and improve conservation efforts.
To use Spot A Shark USA, visitors to the website can click on "Share Now" to upload the images. When uploading the picture, contributors must provide the location and date the image was taken. The photos, after submission, are added to a database that runs recognition software to identify each shark by unique spot patterns.
"Sand tiger sharks have brown spots along their sides that can be used to identify individuals much like we use fingerprints to identify specific humans. This information combined with the location an image was taken allows our scientists to learn more about this species, including what areas of the coastal ocean it uses for its home, as well as where individuals move over time," Avery Paxton, a scientist with the South-East Zoo Alliance for Reproduction and Conservation, or SEZARC, and one of the lead field researchers for Spot A Shark USA, said in a statement.
Paxton added that they are interested in determining how important the shipwrecks of the Graveyard of the Atlantic are to mature females, and investigate potential pupping grounds because the locations are currently unknown.
"The research we are conducting on populations in the northwestern Atlantic will produce results that we hope can be applied to critically endangered populations in other areas of the world," she said.
Once individuals upload their imagery to the Spot A Shark USA website, they are given the opportunity to nickname and "adopt," for a donation, the shark in their photo. They will receive updates on that shark when it is spotted by other divers and their donation will further research efforts.
"We are asking for all images – it could be a picture taken today or from 10 years ago. We want both new and old images," said Paxton.
Director of the North Carolina Aquarium at Pine Knoll Shores Hap Fatzinger said in a statement that researchers learn more with each image uploaded and asks that anyone with images or video take part in this program.
"Directly engaging divers in conservation research to contribute data highlights the collective power of our efforts and the role that zoos and aquariums are playing in conserving these iconic sharks," he said.
Learn More