WASHINGTON, D.C. – The Federal Energy Regulatory Commission, or FERC, has given the green light for construction of the Atlantic Coast Pipeline in North Carolina.
David Swearingen, a division chief with the commission, signed off on the notice to proceed with construction in a letter to Dominion Energy Transmission Inc., or DETI, dated Tuesday. Plans call for extending the pipeline from the North Carolina border at Northampton County near Pleasant Hill to Lumberton. The North Carolina portion would extend through eight counties, Northampton, Halifax, Nash, Wilson, Johnston, Sampson, Cumberland and Robeson.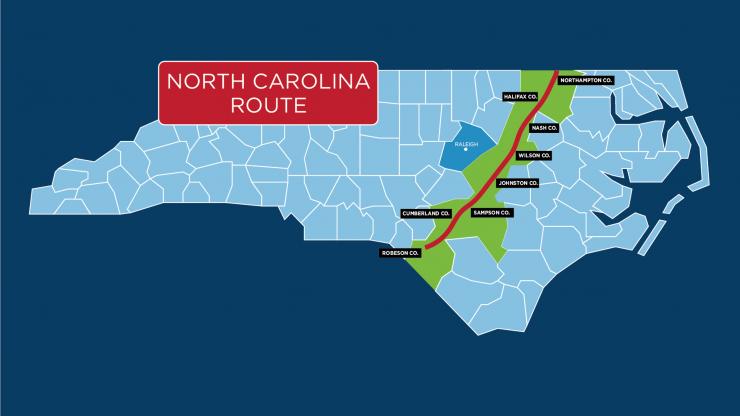 Dominion Energy, Duke Energy, Piedmont Natural Gas and Southern Company Gas are partnering to deliver natural gas via the 600-mile underground pipeline from West Virginia through Virginia and across eight North Carolina counties. Dominion Energy Transmission Inc. is the lead on the project, responsible for its construction and operation.
The $5 billion project could be in service by late 2019.
Environmental groups, including the Sierra Club, are among those opposing the project.
"North Carolinians don't want this dirty project destroying their pristine state and threatening its water for generations to come," the Sierra Club's Kelly Martin said in a statement. "They're already being asked to pay for Duke Energy's coal ash mess, and know the threats that these sorts of projects bring into their communities. The Sierra Club will continue to stand up for the vulnerable communities this pipeline threatens and against the polluting corporations making money off it."
The group Sound Rivers says the pipeline would put at risk waterways in the Tar-Pamlico and Neuse River watersheds.
Proponents and economic development interests contend the supply of pressurized natural gas is needed to attract business and industry to economically distressed regions of the state and provide energy security.