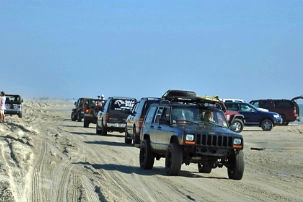 Reprinted from the Outer Banks Voice
CURRITUCK COUNTY —  Leaders here say they stand by the fees charged to nonresidents to park on county beaches, and are prepared to defend the policy in court.
"Currituck County will vigorously defend its ordinance," said County Manager Dan Scanlon in a press release issued Thursday.
The suit was filed on June 21 by the Virginia Four Wheel Drive Association, or VFWDA, and the organization's vice president Sandy Schneirla, a real estate agent from Virginia Beach.
The organization is seeking an injunction to halt the beach parking permit fee charged to nonresidents, claiming the policy violates the North Carolina Constitution, and requests damages of more than $25,000 along with attorney's fees.
"The county believes this complaint is without merit and we will continue to work towards the enhancement of public safety on the north beach," Scanlon said.
The county claims the ordinance is similar to other regional communities that issue parking permits only to residents and property owners.
The VFWDA said the lawsuit is in response to the $150 fee imposed on nonresidents by Currituck County in order to park their vehicles on the beaches between 12:01 a.m. on the Friday before Memorial Day through 11:59 p.m. on Labor Day.
A 10-day beach parking permit costs to nonresident visitors $50 to the off-road area. The fee schedule doesn't include discounts for beachgoers who only want to spend a day or a weekend at the beach, or for those who are renting a beach house for the standard seven-day rental period.
The fees don't apply to Currituck County residents and nonresident property owners, who are allowed free permits for each vehicle they own. The permits are assigned to an individual vehicle, and aren't transferable.
In addition, two seasonal guest permits are allowed for each house in the off-road area that is part of a verified rental program. Two guest parking passes are also allowed for houses owned by a full-time resident of the four-wheel drive area.
Unlike the free beach parking permits issued to county residents, guest passes aren't assigned to a particular vehicle.
Commissioners approved the ordinance requiring a permit to park on the beach on March 5, which the plaintiffs claim violates the "emoluments clause" in Article I, Section 32 of the North Carolina Constitution:
No person or set of persons is entitled to exclusive or separate emoluments or privileges from the community but in consideration of public services.
Currituck County Attorney Ike McCree filed a motion on July 18 for a 30-day extension to give the county more time to file a response to the suit, with a deadline of Aug. 20.
This story is provided courtesy of the Outer Banks Voice, a digital newspaper covering the Outer Banks. Coastal Review Online is partnering with the Voice to provide readers with more environmental and lifestyle stories of interest about our coast.