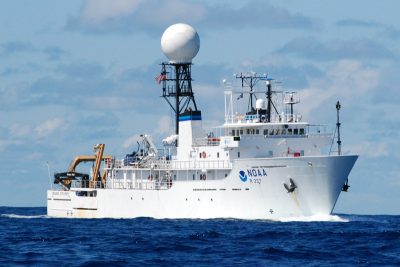 MANTEO — The exploration of an unidentified shipwreck 40 miles off the coast of Hatteras Island will be broadcast live June 25 with viewing at the North Carolina Aquarium on Roanoke Island.
The deep-water robotic investigation of the unidentified shipwreck will be conducted by the National Oceanic and Atmospheric Administration, or NOAA, via a robotic submersible launched from the research vessel Okeanos Explorer.
The livestream program of NOAA's deepwater shipwreck exploration will take place in the aquarium's Neptune's Theater from 9:30 a.m. to 3:30 p.m. and is included with regular aquarium admission.
Visitors will be able to ask guest experts questions who will point out significant developments and even communicate directly with the Okeanos archaeological team. The UNC Coastal Studies Institute  will also be on hand to present a 3-D underwater shipwreck video shot in North Carolina waters, and offer educational interpretation of that diving adventure.
The shipwreck is in about 1,000 feet of water and its origins and the circumstances by which it sank are unknown, according to the release. NOAA maritime archaeologist Joe Hoyt said that records indicate several World War II-era vessels were sunk in that area, but that an up-close investigation is the only way to confirm the ship's identity and history. During the eight-hour dive, the submersible will broadcast video back to the Okeanos' crew, which will search for telling clues like damage from artillery or torpedoes.
"What we're getting is a unique opportunity to witness the uncovering of a real maritime mystery," said aquarium Associate Director Allen McDowell in a statement. "And NOAA has graciously allowed us to go along for the ride."
McDowell added, "We don't know what they are going to find. At that depth, there is the possibility of not only the shipwreck, but also interesting marine life."
Learn More