MOREHEAD CITY – Rachel Noble didn't originally intend to earn a bachelor's degree in molecular biology from Carnegie Mellon University and a doctorate in marine biology from the University of Southern California.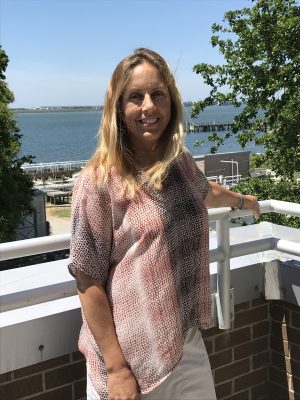 Nah. She initially wanted to be an astronomer. It's just that, well, upper-level calculus in three dimensions got in the way, and she quickly realized at Carnegie Mellon that she'd be better off "settling" for her second scientific fascination. So instead of gazing at stars, she ended up gazing at bacteria in shellfish and the waters they inhabit.
It's a good thing for shellfish waters – and more recently, for food safety – that she did. Nobles, distinguished professor in the Department of Environmental Sciences and Engineering and the Department of Marine Sciences at University of North Carolina Chapel Hill and director of the Institute for the Environment's Morehead City Field Site at the UNC Institute of Marine Sciences, has spent the last 17 years in Carteret County making a name for herself around the nation and world in her "second" academic choice.
She has developed a rapid, two-hour test for E. coli and enterococcus bacteria that public health officials in North Carolina and elsewhere use to determine the safety of shellfish harvest and swimming waters, and now is being adapted to test the safety of agricultural products, too.
In recent months, she's been interviewed numerous times by CNN and other national media outlets about the E. coli breakout that contaminated lettuce, and she's working to get the Food and Drug Administration to approve a rapid test for that use, as well.
She thinks it could be a game changer. Instead of being reactive – waiting until bacterially contaminated produce is on grocery store shelves and people are sickened – the speed of the test could help ensure that contaminated produce is never shipped. She knows her team is not the only one in the race but believes hers is the fastest and best choice.
But back to her academic and career choices.
Born and raised in Pittsburgh, Noble recalled recently, "I was always outside but I always loved science and math, too. I knew very early that I was going to be a marine biologist or an astronomer. So, after high school, I went to Carnegie Mellon to study aerospace engineering."
"I was always outside but I always loved science and math, too. I knew very early that I was going to be a marine biologist or an astronomer."
Then came that upper-level calculus, which she found more of a challenge than expected.
"I decided I was more interested in biology," she said, dryly.
It was a natural choice.
"Growing up, we didn't really have a lot of money, so all of our vacations were at the Jersey shore," she said. "And I'd spend the entire trips outside, in the tidal pools and the ocean."
When it came time for grad school, Noble headed to the sun-and-water capital of the United States, California, where she enrolled at USC in Los Angeles. She graduated in 2001 with a doctorate in marine biology. It was, she said, an eye-opening experience. Southern California, as it is in most things, was way ahead of the East Coast in terms of recognizing the problems and challenges posed by water quality issues, if only because of the incredible pressures put on the ecosystems by the huge numbers of residents and visitors.
"Back then, South California was getting probably 250 million tourists a year," she said. "It's probably 300 to 350 million by now."
Because of those visitors, and the importance of tourism to the economy, officials there realized early on that they had to address sewer discharges into the ocean and protect water quality. They started taking steps long before anyone else.
Noble was in that problematic and problem-solving crucible as a student and it made an impression. She wrote her dissertation on "Fates of Viruses in the Marine Environment," and soon, with her doctorate in hand, began looking for employment.
She interviewed for a range of university jobs – California, State University of New York – but she also visited UNC and its Institute of Marine Sciences in Morehead City, where a couple of professors and researchers, Pete Peterson and Hans Paerl, both of whom are still there, quickly impressed her.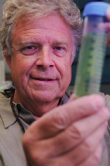 Both had earned their doctoral degrees in California in the early '70s, Paerl at University of California, Davis and Peterson at University of California, Santa Barbara.
"They were world-class researchers, and they made the point, when I interviewed, that UNC was a world-class facility, where you could do work with a global impact, but in a place where the quality of life was awesome," Noble recalled.
So, Noble arrived at UNC IMS in 2001, and finding what Peterson and Paerl said to be true, she stayed. She, like so many other marine biologists in Carteret County, has enjoyed the synergy of the marine science community of professors and researchers at the North Carolina State University Center for Marine Sciences and Technology, or CMAST, the Duke University Marine Lab, National Marine Fisheries Service Laboratory, also known as the NOAA Beaufort Lab, the state Division of Marine Fisheries headquarters, North Carolina Sea Grant's regional office and others.

Noble also has been pleased over the years with her close cooperation with the state's Shellfish Sanitation Section, which tests swimming and shellfish waters regularly for bacteria and opens and closes them based on strict standards that have for decades protected public health. She praised Patti Fowler, longtime but now-retired head of shellfish sanitation, Fowler's successor, Shannon Jenkins, and J.D. Potts, longtime head of the state's recreational waters testing program.
"They've always been cooperative and helpful and interested in our research," she said. "You don't find that everywhere, with all government agencies. It's been great."
It's also important. North Carolina's commercial shellfish and finfish industries are crucial to the economy, as is the tourism industry, and all depend on clean water. One big outbreak of bacterial contamination in a North Carolina shellfish product would decimate the industry, and to the credit of state workers, environmental activists and researchers who have pushed for good programs, there's never been one.
Noble has also been involved in anti-pollution efforts here. A Beaufort resident, she's the lead in a three-year study, now in its second year, that could shine light on how to best manage stormwater to protect coastal water quality. Noble is also on the town's stormwater advisory committee, which meets regularly.
One thing researchers in the three-year study have learned is that the old idea that most pollution in stormwater comes out in the "first flush," or the runoff from the first half-inch or inch of rain runoff, isn't true. Studies in California and along North Carolina's Outer Banks have shown that pathogens – viruses, bacteria and other potentially harmful micro-organisms – are discharged throughout a storm, a finding that calls into question the design of some stormwater ponds used for years to allow runoff to settle and get "natural treatment" before flowing to rivers, streams and sounds.
It's work like this that Noble hopes can help North Carolina and its coastal communities keep pollution problems from worsening amid what she called growing pressure from population growth and development, much of which involves impermeable buildings and parking lots that increase the flow of polluted stormwater runoff, the main cause of impaired waters along the coast.
But she's not convinced the state is keeping pace with the threats to its waters.
"Development is more intense, and the storms are more intense," at least arguably because of climate change, she said. "Shellfish sanitation and other agencies do a good job." But, she added, "I'm not convinced that (the state) is committing the financial resources necessary" to keep pace with the increasing threats to water quality.
She said that if the state is going to commit to increased oyster beds and harvesting, then it needs to commit more money to hire oyster and shellfish experts to monitor the health of what is harvested and sold. The state needs more water quality staffers in general, she said.
"I think we've done a generally good job, but I don't think we're really keeping pace with the pressures," she said.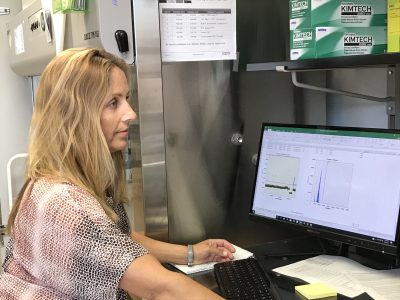 But Noble is hopeful, if only because the state is placing increasing value on oysters both as an economic resource and as water cleaners. Shellfish clean water as they filter feed. She praised the North Carolina Coastal Federation for its work to promote oysters and build reefs. Still, she believes the state needs a 10-year action plan, with a firm commitment to make a difference.
"We need to keep up the momentum and increase it," she said.
Noble is also hopeful that the tests she has developed will help. Already, the two-hour bacterial tests, down from 24 hours or more, are being used, if not yet widely.
As for testing produce and the water that irrigates it, on which she has worked with BioGX, an Alabama-based company, she's also hopeful, but believes it will take time before her method, or those in development by others, will be widely adopted.
But the concept, Noble believes, makes sense, and it's showing results in tests in the field in the nation's winter-growing lettuce "basket." The recent outbreak, according to the FDA and the Centers for Disease Control, centered on the Yuma, Arizona, romaine lettuce-growing region.
The last date of harvest was April 16, and romaine from the Yuma region is no longer available in stores or restaurants, due to its 21-day shelf life. But, according to the CDC, 197 people in 35 states became ill, more than 90 were hospitalized and at least five died.
Noble said part of the problem is that lettuce requires large quantities of water, and in the mostly arid regions where it is grown, that requires intensive irrigation of huge fields, most through mechanized methods. If the water supply is contaminated by E. coli, the bacteria is sprayed in the fields. However, Noble said she believes that although bacterial contamination can't ever be totally eliminated in food, the FDA Food Safety Modernization Act, which requires better testing, spurred her idea to adapt the shellfish water rapid-test to test farm produce, was a step forward.
The law, which then-President Barack Obama signed in 2011 and is being phased in, requires large farms to begin to test their agricultural water for E. coli throughout the year.
"I think the law is a good one," Noble said. "I think public health will benefit."
Her goal is to do everything she can to make sure that the water supplies for produce are safe, but also to make sure the products shipped to grocery stores aren't contaminated. The faster the tests can be administered and analyzed, the better. She feels the same way about shellfish and waters in which they grow.
Noble said she started thinking of this produce situation – and the rapid-testing concept – years ago. She realized her rapid shellfish water testing system could be beneficial but not that it would take so long to get approval for agriculture and food safety.
"It is a time-consuming process to get full approval," she said. "But I think we're moving in the right direction and will be successful."
She conceded that consumers might have to pay more for improved food safety, more than the going average of $2.99 per head of romaine lettuce. Other new tests may be less expensive, but they're not as fast as her team's.
"I think there's room for everyone," who can make a difference, she said.
Noble's work is featured in this video produced by the UNC Chapel Hill Office of Research Communications.
Learn More