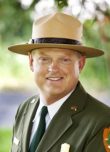 WASHINGTON, D.C. — Robert "Bob" Vogel has been selected to serve as the regional director of the National Park Service's Southeast Region based in Atlanta, Georgia.
Vogel, former superintendent of Cape Lookout National Seashore in eastern North Carolina, currently serves as the regional director of the park service's National Capital Region in Washington, D.C.
As southeast regional director, Vogel will oversee operations for 70 parks and multiple programs in Alabama, Florida, Georgia, Kentucky, Louisiana, Mississippi, North Carolina, South Carolina, Tennessee, Puerto Rico and the U.S. Virgin Islands. National parks in the Southeast Region host 65.5 million visitors each year and contribute $6 billion to local economies.
"Bob's extraordinary ability to think strategically and implement a vision that enables parks to meet and exceed visitor expectations make him the perfect choice to lead the National Park Service's Southeast Region," National Park Service Deputy Director P. Daniel Smith said in the statement released May 23. "His steady hand and commitment to partnerships are particularly important as many of the region's parks continue to recover from last year's devastating hurricanes. I am confident that Bob is the right person to lead the important work of the Southeast Region."
Vogel since December 2014 has served as the NPS National Capital regional director, where he led more than 700 park locations in the District of Columbia, Maryland, Virginia and West Virginia.
While leading the National Capital Region, Vogel helped secure funding for the complete $227 million rehabilitation of Arlington Memorial Bridge, created business efficiencies in the regional office, and emphasized employee development and well-being by supporting a regional workforce advisory group, creating a Civil Rights internship program, signing a new collective bargaining agreement, and leading the region's response to sexual harassment, according to a statement from the park service. Recently he served in a temporary capacity as the park service's deputy director for operations.
"I started my career in the Southeast Region and have many fond memories — from an internship at Shiloh National Military Park, to my first permanent job at Vicksburg National Military Park, and my first superintendency at Guilford Courthouse and then at Cape Lookout," Vogel said in the press release. "I look forward to returning to work with the skilled, dedicated staff and passionate partners to care for America's treasures in the Southeast."
Vogel was also National Mall and Memorial Parks superintendent, deputy superintendent of Grand Teton National Park in Wyoming, superintendent at Guilford Courthouse National Military Park in North Carolina, chief of visitor services at Allegheny Portage Railroad National Historic Site and Johnstown Flood National Memorial in Pennsylvania and at Fort Frederica National Monument in Georgia and assistant chief of interpretation at Bryce Canyon National Park in Utah. He began his park service career as a seasonal park interpreter at Ozark National Scenic Riverways in Missouri.
Vogel is a native of Cape Girardeau, Missouri, and is a graduate of the University of Tennessee with a bachelor of science degree in natural resource management. Vogel and his wife, Janice, who met at Fort Frederica National Monument in Georgia, have one adult daughter, Sara.