The number of domestic fish stocks listed as overfished has reached an all-time low, according to the 2017 Status of U.S. Fisheries report to Congress, NOAA Fisheries announced Thursday.
Ninety-one percent of stocks were not subject to overfishing and 87 percent of stocks were not overfished, according to the report.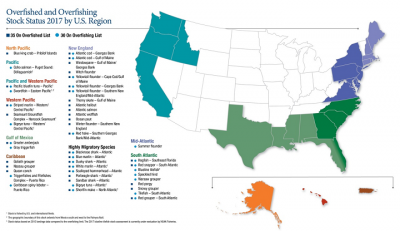 NOAA fisheries defines overfishing as the annual rate of catch is too high and overfished as the population size is too small. A rebuilt fishery is a previously overfished stock that has increased in abundance to the target population size that supports its maximum sustainable yield.
In the South Atlantic, blueline tilefish, speckled hind, red grouper, Warsaw grouper and tilefish are on the overfishing list. Red porgy and snowy grouper are on the overfished list. Hogfish, red snapper and red grouper are on both lists.
"Ending overfishing and rebuilding stocks provides two key benefits for the American people," said Chris Oliver, assistant administrator for NOAA Fisheries, in a statement. "First, it strengthens the value of U.S. fisheries' contribution to the economy, which in 2015 exceeded $208 billion dollars. Second, it supports the communities and marine ecosystems that depend on healthy fisheries."
Learn More