RALEIGH — Gov. Roy Cooper's newly released budget plan calls for a return to using the deed stamp tax on real estate transactions as a dedicated source of revenue for the state's conservation funds.
With the North Carolina General Assembly's short session just around the corner and talk of an early-session budget agreement between the state House and Senate, Cooper rolled out his proposals Thursday during a press conference in Raleigh.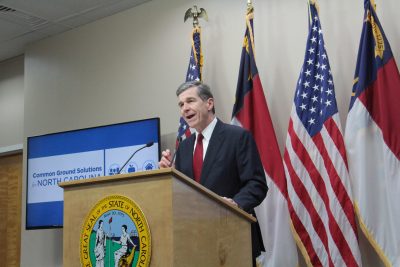 They include using the deed stamp tax proceeds for the Clean Water Management Trust Fund, or CWMTF; Parks and Recreation Trust Fund; Farmland Preservation Trust Fund; and the state's Housing Trust Fund.
Cooper's budget director Charles Perusse said the system would work much like it did prior to its phase-out under former Gov. Pat McCrory, whose first budget director, Art Pope, sought to reduce the practice of using dedicated revenue for special funds.
The former system divided the proceeds of the stamp tax among the Clean Water and Parks and Recreation funds as well as the state's Natural Heritage Fund, which was folded into the CWMTF's mission in 2013.
Going back to using the deed stamp revenue already has some legislative support, especially after years of haggling between the House and Senate over conservation funds.
Last fall, Rep. Pat McElraft, R-Carteret, who chairs the House Agriculture and Natural and Economic Recourses Appropriations Committee, said she would consider the use of the deed stamp as one way of funding a beach hazard mitigation fund.
Here's how the new system would break out the funds in Cooper's proposal:
35 percent, about $6.5 million, to the Clean Water Management Trust Fund. Total 2018-19 amount for the fund would be $24.3 million.
35 percent, about $6.5 million, to the Parks and Recreation Trust Fund. Total amount for the fund for 2018-19 would be $22.8 million.
15 percent, about $2.8 million, for the Farmland Preservation Trust Fund. Total amount for the fund for 2018-19 would be $15.4 million.
15 percent, about 2.8 million, for the Housing Trust Fund. Total amount for 2018-19 would be $10.47 million.
The idea drew praise from the state chapter of the Sierra Club. Cassie Gavin, director of government affairs, said the deed stamp tax, which is tied to development, is a logical revenue source for the conservation funds.
"Governor Cooper's budget would be a win for North Carolinians and the environment thanks to increased funding for clean water and land protection," Gavin said Thursday in a statement. "It would also improve coastal resiliency from natural disasters and strengthen the state's capacity to enforce environmental laws."
GenX, Coal Ash
Cooper's budget also contains additional spending for the Department of Environmental Quality, including an $8 million initiative on per-fluorinated compounds and other emerging contaminants announced last month, 11 new positions at DEQ to speed up permitting and $1.5 million for planning for improvements to the Reedy Creek Road Laboratory in Raleigh, the department's main air and water quality testing lab.
In announcing the plan, the governor said he would like to see a resolution to the battle over additional funding for DEQ to deal with GenX and emerging contaminants.
"We need to invest in making sure we can do more testing and scientific analysis and have the strength to hold these polluters accountable," he said. "I hope that the people will rise up and tell them that this has to be done."
Cooper also recommends that the state restore the coal ash combustion residuals fee on power producers to its original rate of 0.03 percent to provide additional operating funds for DEQ's coal ash-related costs.
Coastal Provisions
Coastal-related projects in the governor's proposed budget include the following:
$12 million in state matching funds for navigations, water management, flood mitigation and beach re-nourishment projects.
$95,898 in startup costs and $176,946 for operations and salaries for two laboratory technicians for a new shellfish sanitation laboratory in the northeastern part of the state to test shellfish harvesting waters and 204 coastal swimming sites. The new lab would replace the lab in Nags Head closed by budget cuts in 2014.
$1.5 million for the Division of Marine Fisheries to replace the West Bay, a state research vessel used to support Shellfish Rehabilitation, Oyster Sanctuary and Artificial Reef programs.
$480,000 for a new generator building for the Roanoke Island Aquarium.
$500,000 for a special events coordinating center for Tryon Palace.
$1 million for heating and air conditioning and exhibit upgrades at the Graveyard of the Atlantic Museum.