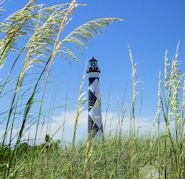 HARKERS ISLAND – From May 16 to Sept. 16, the historic Cape Lookout Lighthouse at Cape Lookout National Seashore will be open for visitors to make the trek to the top.
Visitors can climb the 207 stairs to the top of the lighthouse from 10:15 a.m. to 4 p.m. Wednesdays through Sundays, with ticket sales from 10 a.m. to 3:45 p.m.  The lighthouse will be open Memorial Day and Labor Day.
Tickets, $8 for adults and $4 for ages 62 or older and 11 and under, are available on a first-come, first-served basis and can only be purchased in-person at the site the day of the climb. There are no advance ticket sales.
Children must be at least 44 inches tall to climb and 12 and under must be escorted by a person at least 16 years old.
Climbers should bring on their visit sunscreen, bug spray, water and snacks, and plan to pack out any trash as the park is a trash-free zone.  It's also recommended to check local weather ahead of time and dress accordingly. Climbing the lighthouse can be strenuous' as the climb is the equivalent to climbing a 10-story building.  For more information, check the park website at www.nps.gov/calo.