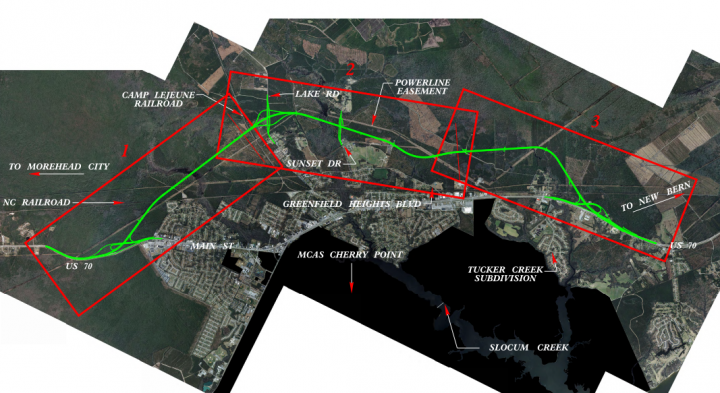 RALEIGH — The North Carolina Department of Transportation has committed to protect the rare longleaf pine habitat along the new U.S. 70 bypass that will be built around Havelock.
The department's action comes in exchange of the Sierra Club and the Southern Environmental Law Center agreeing to drop a lawsuit they filed in federal court seeking to stop the highway from being built, the News & Observer reported.
NCDOT pledges to use sensitive construction practices to build the four-lane divided highway through part of the Croatan National Forest, south of Havelock away from Marine Corps Air Station Cherry Point, as well as give a conservation easement to protect land it will own along the 10.3-mile bypass, according to an agreement announced Monday.
NCDOT will also provide $5.3 million to the North Carolina Coastal Land Trust to create a fund to protect land in and around the Croatan National Forest and establish a $2 million revolving loan fund that could be used to protect property in Carteret, Craven and Jones counties.
The lawsuit also named the Federal Highway Administration and the U.S. Fish and Wildlife Service, which both had signed off on the project, claiming that the Fish and Wildlife Service failed to fully consider the ramifications to the endangered red-cockaded woodpecker from building a road through their habitat.
The two federal agencies as part of the settlement have committed to maintaining woodpecker habitat between the bypass and Havelock using controlled burning, which longleaf pines need to reproduce and thrive. The U.S. Forest Service will perform the burning.
The Southern Environmental Law Center filed suit on behalf of the Sierra Club less than two weeks after NCDOT was granted permission to move forward in December 2016 by the Federal Highway Administration. The lawsuit said the route chosen by NCDOT would damage more wetlands, streams and wildlife habitat than the others three options considered.
The bypass, which will avoid a congested section of U.S. 70 and many traffic lights in Havelock, is part of a long-term plan to turn U.S. 70 into Interstate 42 from Garner to Morehead City. Construction of the three-year project in Havelock should begin early 2019 at an estimated cost of $221 million.
Learn More