Reprinted from the Outer Banks Voice
KILL DEVIL HILLS – Admission to the Wright Brothers National Memorial will cost more starting June 1, as part of a plan by the National Park Service to help address an $11.6 billion backlog of maintenance and construction projects across the country.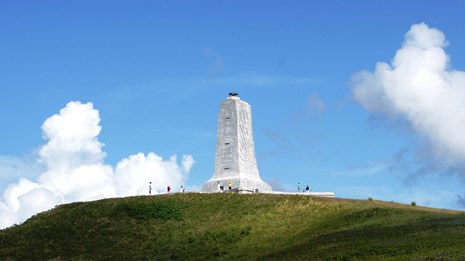 The entrance fee for individuals 16 and older will increase to $10 for a ticket good for seven consecutive days. Children 15 and under will still be able to enter for free.
It's the first increase to entrance fees at the memorial since 2015, when the current individual rate was set at $7.
Annual pass fees will increase to $35. The pass allows unlimited entry to the park in Kill Devil Hills for 12 months from date of purchase for the pass holder and three people, ages 16 and older.
"Entrance fees are vital to addressing infrastructure needs and helping to improve visitor experiences at Wright Brothers National Memorial," said Park Service Superintendent David Hallac.
According to a Park Service news release, the increase being implemented at parks around the country was in response to public comments on a fee proposal released in October 2017, rather than higher peak-season fees initially proposed only for 17 highly-visited national parks.
The Park Service said at least 80 percent of Wright Brothers National Memorial entrance fees stay in the park and are devoted to spending that supports the visitor.
The park shares the remaining 20 percent of entry fee income with other national parks for their projects.
Entrance fees collected by the National Park Service totaled $199.9 million in fiscal 2016. The NPS estimates that once fully implemented, the new fee structure will increase annual entrance fee revenue by about $60 million.
Wright Brothers National Memorial is one of 117 National Park Service sites that charges an entrance fee. The other 300 national parks, including Cape Hatteras National Seashore and Fort Raleigh National Historic Site will remain free to enter.
The National Park Service has a standardized entrance fee structure, composed of four groups based on park size and type. Wright Brothers National Memorial is one of 43 sites in group 1.
Some parks not yet aligned with the other parks in their category will raise their fees incrementally and fully incorporate the new entrance fee schedule by January 1, 2020.
The price of the annual America the Beautiful National Parks and Federal Recreational Lands Annual Pass and Lifetime Senior Pass will remain $80.
This story is provided courtesy of the Outer Banks Voice, a digital newspaper covering the Outer Banks. Coastal Review Online partners with the Voice to provide readers with more environmental and lifestyle stories of interest about our coast.