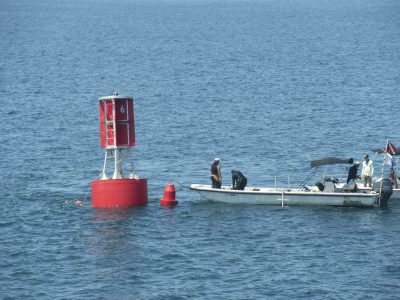 After struggling for 20 years to find an environmentally friendly alternative to the concrete anchors used for navigational buoys, the U.S. Coast Guard may have an answer.
The Coast Guard uses the navigational buoys to direct water traffic and to protect vulnerable benthic ecosystems such as seagrass communities and coral reefs in U.S. waters.
However, the sinkers and heavy metal chains used to attach buoys to the seafloor can damage life under its heavy footprint, and when the connecting chains are lax, can scrape off seagrasses, seaweeds and corals around the sinkers as waves and wind push the buoys around.
The Coast Guard reached out about two years ago to the Department of Homeland Security and the department's Science and Technology Directorate for help. The organization offered a prize competition in January 2016, for which Cole Keaoulu Santos from Hawaii proposed a narrow screw anchor instead of a concrete sinker and instead of a heavy metal chain, he suggested an elastic rope to prevent scraping of the ocean floor.
In April, the Research and Development Center, or RDC, embarked on a two-year experiment to test several different types of mooring systems inspired by Santos' concepts.
The RDC deployed five buoy-mooring systems near the coast of St. Petersburg, Florida. There, the buoys' effects on the ocean floor and ability to withstand the elements while staying securely moored will be evaluated. The results will determine if the moorings are fit to be adopted on a broader scale.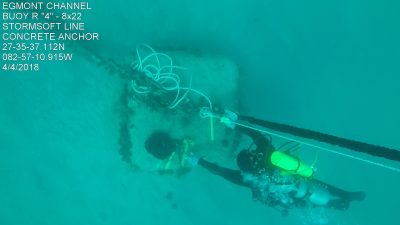 For the experiment, the Coast Guard chose two navigation channels with a bare sandy floor suitable for the helix anchors and to avoid any environmental concerns for using the concrete anchors.
In early April, for two consecutive days, the crew of the U.S. Coast Guard cutter Joshua Appleby, a 175-foot Keeper Class coastal buoy tender, and dive team worked tirelessly to complete their mission.
The first day they replaced the metal chains with one StormSoft and one Hazelett mooring line models, and on the next day, with two StormSoft and one Supflex.
For the next two years, the Coast Guard will visit the buoy moorings every three months to monitor their durability. The dive team will document the condition of each mooring line and will provide photographic and video evidence.
When the testing period is over, the Coast Guard will prepare a final report of the eco-friendly buoy moorings to support future decisions.