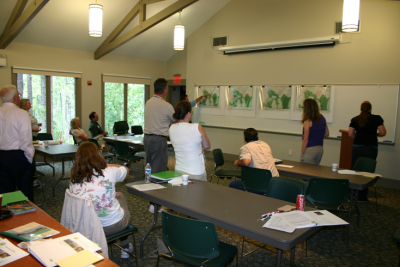 LELAND — The North Carolina Wildlife Resources Commission is offering from 9 a.m. to 4 p.m. April 27 a Green Growth Toolbox Workshop.
Hosted by the Brunswick County Planning Department and Brunswick Community College, the free workshop will be in the Leland Center of Brunswick Community College, 2045 Enterprise Drive NE. Participants should bring a laptop or tablet to explore online wildlife habitat maps on the Natural Heritage Data Explorer.
The Green Growth Toolbox was developed by the state Wildlife Resources Commission and is a tool that communicates science-based recommendations and case studies about conserving priority wildlife habitats and natural resources through land use planning methods, according to the press release.
The toolbox consists of a website, a handbook, GIS data and followup technical assistance. The workshop will include information on the economic benefits for communities, the future of wildlife, and how to protect natural resources, public access, working farms and forests.
This workshop is geared toward land use and transportation planners and departments, GIS specialists, planning-related board and committee members, landscape architects, parks and recreation, public works and utilities, community leaders, community natural resource specialists, realtors and consultants.  Anyone is welcome to attend any part of the workshop.
Participants are to learn how to do the following:
Better safeguard wildlife habitat in land use and related plans.
Adjust development design and practices to reduce impacts to wildlife and habitats.
Amend ordinances and procedures with incentives to conserve habitat.
Use maps of wildlife habitat in planning and development design.
Better understand the important role land use and development planning plays in reducing declines in our wildlife populations and habitat.
Communicate the economic and societal benefits.
"The workshop is intended to assist communities to secure natural resource benefits and reduce wildlife declines by incorporating conservation of priority wildlife habitats in land use planning," according to the press release. "We present conservation-based land use planning methods focusing on incentives, and increased choices that remove regulatory barriers to conservation development."
Five AICP and five NCBLA continuing education credits have been requested for those who complete the full day workshop. Other professions can self-report credits.
Learn More