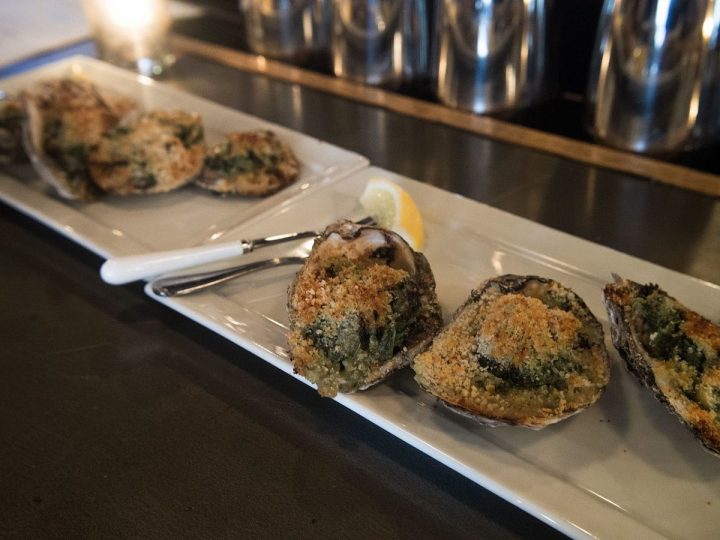 The inspiration for the famous American dish Oysters Rockefeller had nothing to do with oysters or billionaire oil tycoon John D. Rockefeller and certainly not with North Carolina foodways, except that the dish is so enduring many chefs along the state's shore serve a version of their own.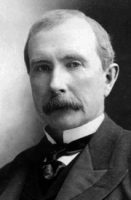 Oysters on the half shell crowned with a buttery roux full of chopped, fresh herbs and then broiled until the topping becomes just crusty was invented at the legendary New Orleans restaurant Antoine's.
The year was 1899.  Rockefeller controlled the nation's oil industry while Antoine's chef Jules Alciatore faced a shortage of French snails. He needed an escargot substitute.
Trained in Paris, Alciatore took the idea of France's classic escargots à la Bourguignonne recipe, which relies on butter and herbs, and applied it to oysters. He added some twists and named his new, ultra-rich dish after the richest man in America.
Rockefeller apparently never tried the creation. It was a hit, nonetheless, and remains on menus nationwide to this day, even though the recipe is top-secret.
"Jules Alciatore on his deathbed reportedly demanded eternal secrecy from all who knew just exactly what went into that shell," according to the book "New Orleans Cuisine: Fourteen Signature Dishes and Their Histories" (University Press of Mississippi, 2009).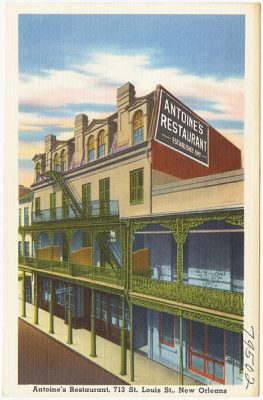 Antoine's owners still honor Alciatore's order, but longtime New Orleans food writer Tom Fitzmorris is certain the recipe he published in his 2006 book "Tom Fitzmorris' New Orleans Food: More Than 250 of the City's Best Recipes" is as close as any cook can hope to get to the original formula.
Recipe analysts generally agree Oysters Rockefeller at Antoine's contain butter, parsley and bread crumbs. Fitzmorris expands the list to celery, green onion, watercress, fennel and other seasonings including ketchup and New Orleans' own Peychaud's Bitters, created in 1830.
Fitzmorris reported that Bernard Guste, the fifth-generation proprietor of Antoine's, declared the recipe "embarrassingly close to the real thing."
Back in 1912, Winnipeg Free Press writer Jane Eddington claimed to have been handed the recipe by Alciatore himself, according to research at foodtimeline.org.
"Jules is extremely reluctant about giving away the secrets of his kitchen, but after some coaxing he was induced to part with the following while slowly sipping his cognac after luncheon," Eddington wrote in the March 27, 1912, edition of the Canadian newspaper.
"Huitres en Coquille a la Rockefeller–Raw oysters with a dressing made as follows, the quantity of the ingredients to depend upon the size of the order. One bunch of shallots, one bunch of parsley, two pounds of butter, one bottle of Spanish walnuts, half a bunch of tarragon leaves, two stale loaves of French bread, salt and pepper, and a liberal sprinkling of tabasco sauce. All of these things are pounded into a pulp in a mortar, and then ground in a sausage machine, the mass being finally passed through a needle sifter. The oysters on the half shell are covered with the sauce and then placed in a hot oven to bake just three minutes. The oysters must be served at once."
Was Alciatore pulling Eddington's leg? Was Guste trying to keep Fitzmorris off track. Who knows?
What's certain is that Oysters Rockefeller is not what most restaurants today pass off as the real thing: oysters baked under a blanket of creamed spinach, bacon and parmesan cheese. It seems Alciatore's secret recipe inspired a baked oysters craze that takes on many forms.
Along the North Carolina coast, Oysters Rockefeller has lots of cousins.
The versions that feel most like a taste of the Carolina coast feature local, salty oysters and collards that grow so well in the region's sandy soil. Creamed collards and onion bacon jam top baked oysters at City Kitchen in Beaufort. The Boiler Room menu in Kinston lists Oyster Boilerfeller wearing collards, bacon, spicy tomato and shaved Parmesan.
Visitors to the Outer Banks food festival Taste of the Beach 2018 will be treated to Oysters Rockefeller made with arugula, gouda cheese and tasso ham March 22 at Outer Banks Brewing Station.
Brie and roasted garlic go on Oysters Mon Louis at Ocracoke Oyster Co. on Ocracoke Island. Fresh spinach, peppered bacon, gorgonzola and white wine cream sauce is the combination at Provisions in Southern Shores.
At Pinpoint in Wilmington, baked oysters are served three ways: Rockefeller, with wilted greens, Benton's bacon and Pernod; Piperade, with chilis and cornbread; and Hollandaise, with blue crab and whey hot sauce.
Chargrilled oysters at The Pilot House, also in Wilmington, mean smoky morsels beneath butter, parmesan, garlic, panko crumbs, lemon, hot sauce, cayenne, and chives. Years ago, the restaurant served a different riff on Oysters Rockefeller. Chefs spooned tender, chopped collards into the half shells and then laid the oysters on the greens. Country ham, blue cheese and chopped pecans were the finishing touches, a masterpiece that surely would have inspired Alciatore himself.
Front page featured photo: larryjh1234/flickr