RALEIGH – Gov. Roy Cooper urged Interior Secretary Ryan Zinke in a letter Wednesday to grant a 60-day extension of the public comment period on the federal plan for offshore drilling and seismic testing off North Carolina's coast.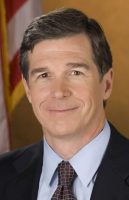 Cooper, in the letter, also urged the Bureau of Ocean Energy Management to hold additional public hearings on the North Carolina coast in Kill Devil Hills, Morehead City and Wilmington. Currently, the only public meeting on the plan is set to take place in Raleigh as an "open house" information session, not a public hearing.
"This extension is necessary to allow for public hearings in coastal areas and to give the public, especially the people of eastern North Carolina, sufficient time to submit comments on offshore drilling proposed for nearly the entire U.S. Outer Continental Shelf," Cooper wrote in the letter.
Cooper has called on the Trump administration to grant North Carolina an exemption from offshore drilling and seismic testing and has encouraged North Carolinians to share their feedback with the Interior Department at 202-208-3100.
Learn More