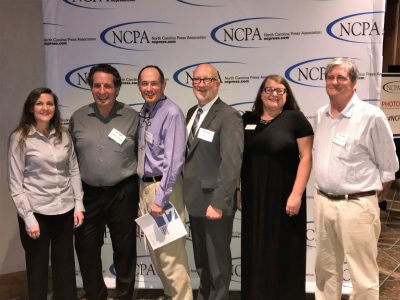 RALEIGH – Coastal Review Online won a dozen awards Thursday from the North Carolina Press Association for news coverage during 2017.
The association announced the awards during the news, editorial and photojournalism contest awards ceremony that was part of its annual convention held this year at the Raleigh Marriott Crabtree Valley. Awards were presented to newspaper and online journalists from across the state.
Coastal Review Online staff, reporters and photographers competed in the online-only division of the association's annual competition. Among the awards for the nonprofit news publication's work were six first-place awards, including one for best use of multimedia.
"Winning awards for our use of multimedia is especially encouraging because we are trying to maximize the potential of our digital platform, but we're also excited just to be recognized among our peers for good old-fashioned reporting," said Coastal Review Online Editor Mark Hibbs. "Nearly all of our reporters are newspaper veterans and it's their experience and professionalism that have built CRO's reputation for quality and credible news coverage."
The team also received two second-place awards and four third-place awards. The contest period was for stories published between Oct. 1, 2016, and Sept. 30, 2017.
Coastal Review Online is published daily, Monday-Friday. The North Carolina Coastal Federation launched the nonprofit news service in February 2012 to provide coverage of issues relevant to the people, culture, history and environment of the North Carolina coast.
Coastal Review Online has been a member of the North Carolina Press Association since 2013.
The association is a member-owned and operated nonprofit group established to protect First Amendment freedoms, promote the business interests of North Carolina newspapers and maintain high standards in the industry. Members include daily and community newspapers and special interest publications; online news publications; those who provide equipment, supplies, growth opportunities and materials to the industry; and those who generally support newspaper interests. It is the only newspaper industry trade group in the state.
The association's winter convention typically includes guest speakers and education sessions for journalists, such as information on open government and laws pertaining to public records and media. The editorial contest is open to any North Carolina newspaper or online news site that is a member of the association. The Hoosier State Press Association judged this year's contest entries.
Coastal Review Online earned awards in a variety of categories, including breaking news coverage, in-depth government reporting, feature writing and columns.
Staff took home a first-place award for online breaking news coverage during and immediately after Hurricane Matthew struck the North Carolina coast in October 2016. Reporting included regular updates on conditions, flooding, damage and the emergency response up and down the coast and tracking coordinates during the weekend storm, which was blamed for nine deaths in the state, and a detailed report with photos on that Monday morning when Matthew turned away from the Outer Banks and headed out to sea.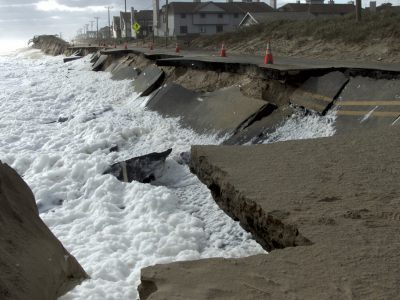 Coverage of Hurricane Matthew's aftermath also included a front-page featured photo of the damage to a portion of N.C. Highway 12 on the Outer Banks. That image, captured by Kip Tabb, earned a first-place award for spot news photography.
Kirk Ross and Trista Talton took home awards for their election/political reporting and city/county government reporting, respectively.
Ross' report focused on a proposed change to state environmental rules that would have reclassified about 12 miles of the lower Cape Fear River as "swamp water," thereby lowering the water quality standards and reducing requirements on local businesses and governments with discharge permits. A state legislator opposed to the reclassification called the idea "intellectually dishonest."
Talton's series of news reports articles arising from a dispute in Topsail Beach, North Carolina, regarding a development rule intended to protect vulnerable sand dunes. A handful of property owners frustrated that the restrictions prohibited development of their parcels faced off against others who feared that altering the dunes would weaken them, creating increased flooding threat to their homes.
Talton's series included the following:
A legislative provision aimed at resolving the dispute was part of House Bill 56, which ultimately cleared the legislature, was vetoed by the governor but then became law when the General Assembly overrode the veto.
Here is the full list of winners and their respective categories:
First Place
Second Place
Third Place
Learn More