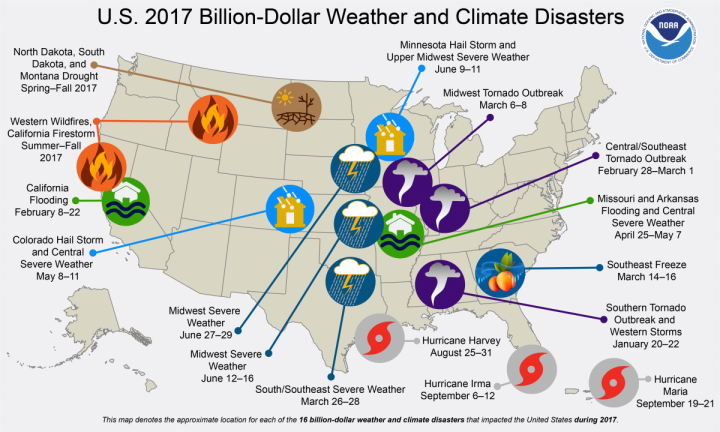 With flooding, tornadoes, hurricanes, drought, fires and freezes throughout 2017 in the United States, the year will be remembered as one of extremes that caused hundreds of fatalities and financial hardships, the National Oceanic and Atmospheric Administration, or NOAA, announced Monday.
In 2017, the U.S. experienced 16 weather and climate disasters, each with losses well beyond $1 billion, totaling about $306 billion, which is a new U.S. record, according to the release.
At least 362 people died and many more were injured during the disasters that included one freeze, one drought that affected multiple areas, one wildfire that affected multiple areas, two floods, three major hurricanes (Harvey, Irma and Maria) and eight severe storms.
The wildfires in the west caused damages totaling about $18 billion, which is triple the previous U.S. record. Hurricane Harvey losses exceeded $125 billion and Hurricanes Maria and Irma had total damages of $90 billion and $50 billion, respectively.
Not only were records set by disasters, the average U.S. temperature in 2017 was 54.6 degrees Fahrenheit, which is 2.6 degrees above average, making 2017 third warmest year in 123 years of record-keeping, according to scientists from NOAA's National Centers for Environmental Information.
Learn More