RALEIGH – Gov. Roy Cooper urged U.S Interior Secretary Ryan Zinke Friday to grant North Carolina an exemption from the Department of Interior's five-year plan for offshore drilling in the Atlantic, the governor's office announced.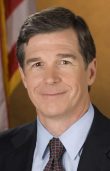 The call came after the Department of the Interior announced earlier in the week that Florida's coast will no longer be considered for oil and gas drilling in the Trump administration's plan announced Jan. 4 that would open nearly all U.S. coastal waters to drilling as part of the National Outer Continental Shelf Oil and Gas Leasing Program for 2019-2024.
During the call, Zinke agreed to visit and speak to local leaders here and North Carolina's congressional delegation.
"Offshore drilling poses too many risks for North Carolina and our coastal economy. I look forward to the Secretary coming to visit our coast to learn firsthand the importance of tourism and commercial fishing and the damage an oil spill would cause. I will continue to urge Secretary Zinke to grant North Carolina an exemption to drilling similar to the one for Florida," Cooper said in a statement.
Cooper's office said the governor emphasized North Carolina's opposition to offshore drilling, inquired about the decision to exempt Florida and explored options to exempt North Carolina as well.
Cooper, according to the announcement, described North Carolina's $3 billion coastal tourism economy, 22 barrier islands and millions of acres of estuaries that this plan would put at risk if it were put into practice. Cooper also explained North Carolina's history of hurricanes and how the coastal storms could affect drilling.
Zinke expressed his understanding of opposition to the plan, and said that the Department of Interior would continue receiving input from Cooper and collecting feedback from various stakeholders in the process.