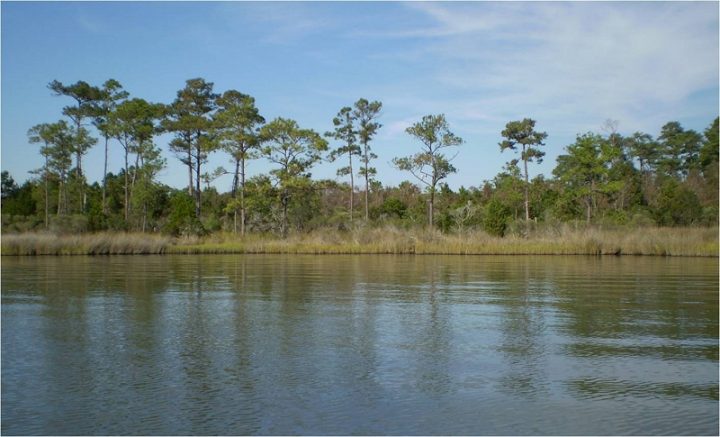 RALEIGH – Researchers during a 10-year study found that natural processes have a greater effect on Marine Corps Base Camp Lejeune's complex ecosystems than the military training taking place on the installation in Onslow County.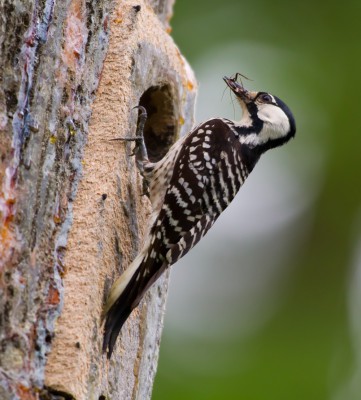 During the decade-long Defense Coastal/Estuarine Research Program, or DCERP, that wrapped up in October with a symposium, 26 research projects were carried out to better understand coastal and estuarine ecosystems within the context of a military training environment.
Key Findings titles from DCERP included a new method developed to determine how the estuary "breathes"; fertilization may help coastal marshes keep pace with sea level rise; a new discovery in barrier island evolution; tidal influence from rising sea level was observed further upstream; climate change over the last 30 years changes life history traits of red cockaded woodpeckers; a rise in water temperature in coastal tributary creeks; climate change to beach landscapes may impact sea turtle selection of a nesting site; and the Intracoastal Waterway acts to trap sand destined for mainland marshes.
Funded by the Strategic Environmental Research and Development Program or SERDP, the Department of Defense's environmental science and technology program, DCERP was divided into two, five-year components: DCERP1 from July 2006 to January 2013 and DCERP2 from February 2013 to October 2017.
DCERP principal investigator Pat Cunningham, environmental biologist with the program lead, the nonprofit RTI International, explained in October during the DCERP Symposium at North Carolina State University's McKimmon Conference & Training Center, that DCERP was structured to be an integrated monitoring and research program with the goals of the individual research projects to complement the overall program goals.
The overarching goals are to understand Camp Lejeune's biologically diverse coastal barrier island, estuarine, marsh and terrestrial ecosystems and their interactions with military training activities; identify infrastructure and training land impacts from climate change that risk our nation's military readiness; develop easy-to-use decision-support tools, models and other products to help managers balance training needs and natural resources and understand the trade-offs between carbon management and other management decisions to attain potential installation carbon goals in a future changed climate.
SERDP Director Dr. Herb Nelson was one of the first speakers during the symposium. He said that the reasons that SERDP got started in the DCERP business is to see if large group can look at base management holistically, "and can we really make a difference."
He added that many DoD installation managers have a great deal of responsibilities … "We need to develop techniques and knowledge to allow them to do these things in a sustainable and proactive manner, and that's exactly what's going on in DCERP."
During DCERP 1, Cunningham said at the symposium, researchers looked at the structure, composition and function of the ecosystems as well as the effect of military training on base lands.
"What we discovered was that, regarding the military training impacts, that the natural forces actually far outweigh the impacts of military training and Camp Lejeune was very proactive in taking care of the base lands," she said.
The DCERP2's technical objectives, she continued, are "We wanted to continue to study ecosystem changes associated with changing climate through direct measurements, in some cases of changing parameters, and through the use of ecological process models to forecast future scenarios."
Cunningham added that they looked at ways to enhance carbon storage in the coastal ecosystems at Camp Lejeune. "If carbon trading or credits become important in the future, the base will be well positioned to take advantage of this."
"We also looked at ways to convey results of scientific studies to the DoD installation managers," she said, because DoD was the sponsor and primary target for decision support tools, models and other tools that would help them make actionable decisions about the natural resources of the base.
Cunningham explained that the 156,000-acre Camp Lejeune was originally selected because there was concern that Onslow Beach, which is a "pre-eminent amphibious assault training area" seemed to be disappearing and that additional training on the lands may cause increased pollution in the New River Estuary.
During the early stages of DCERP1 and DCERP2, the team met with the base managers who provided a list of challenges of managing natural resources. Some of those challenges included water quality, preserving wetlands, sustaining the use of the training area on Onslow Beach and preserving the terrestrial landscape, where they wanted to obtain their recovery goals for the red-cockaded woodpecker, which is a federal listed species. 
"Around the time that DCERP1 was started, DoD was getting very interested in climate change and the risk to installation," Cunningham said. 
The first theme, the aspects of climate change, that DCERP wanted to understand included the historic, current and future climate, then project scenarios into future climate.
"The four drivers of climate change that we were looking at were increases in temperature, changes in the variability of rainfall and drought periods, episodic events like hurricanes and storms and of course sea level rise," she said.
She said the second theme was carbon, the carbon cycle and understanding the carbon cycle, which they studied because DoD is either the major or one of the major institutional consumers of fossil fuel.
"We created a carbon budget for the New River Estuary and coastal system and we wanted to look at how future climate and management may influence the carbon budget for the system," Cunningham said. "We also are looking at forestry management practices and climate change and how these might influence carbon storage in the pine forests of the base."
The final theme, she said, was to translate science into practice, or to produce actionable information for the base managers so that they can make more informed management decisions. SERDP wanted this to be a web-based data management system to disseminate the information from DCERP to a wider audience.
Kim Matthews with RTI International, explained during the symposium that they are translating science into practice, or trying to communicate DCERP results to different target audiences.
"Throughout this whole process, we've had management needs in mind, so we're trying to present those results in a meaningful way. It's not enough to report the results, we need to provide context for that result," she said.
The three different audiences the information has been geared toward were the scientific community, the DoD installation managers and stakeholders, Matthews said.
The opportunity to read more the 26 research projects, are on the website. There's a summary of the findings, link to final reports and list of publications per each research project, she added.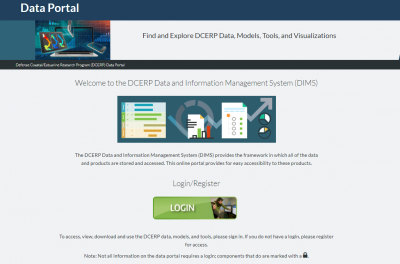 During DCERP 1, a web-based data and information management system, or DIMS, was created to make this information accessible and usable, she said. DIMS is a portal for DCERP available to technical and non-technical audiences.
Matthews said there's a public site that provides an overview of the program with key findings, resources and news and a data portal page that has three components: MARDIS, Documents database and ecosystem based management tools. Some areas require a password.
Mike Piehler, executive director of UNC's coastal Studies Institute at Manteo and a professor at UNC's Institute of Marine Science in Morehead City, has been part of DCERP since 2007.
"The key to this project was to make sure that the good science we were doing was connected to the base but also we had this remarkable opportunity to tackle a big coastal question," he said.
"So what does that mean and what are big coastal questions? … The challenges associated with changing climate, the challenges associated with human utilization of the coastal zone and how do we sustain that" Piehler said. "That was our big challenge, how can we understand the function of the system of the New River Estuary and the effects of all of the things that the military has on that system and, in doing that, can we create generalizable results that can be conveyed to the rest of DoD and also conveyed to other people living in coastal areas."
"I really feel that this is a unique program and hopefully the lessons learned from this highly integrated research and monitoring program will serve as an example for other such SERDP endeavors," Cunningham said at the conclusion of the symposium.
Learn More