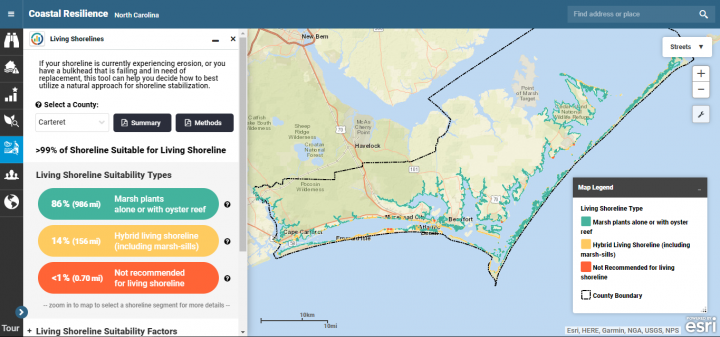 BEAUFORT – A living shorelines application, or app, that uses science and geographic information to help identify where this natural method of shoreline stabilization will thrive in central coastal North Carolina is now a part of a collaborative online program focused on climate adaptation.
The Nature Conservancy, which leads the Coastal Resilience program, partnered with scientists at National Oceanic and Atmospheric Administration, or NOAA, Beaufort Lab to create this tool using findings from research of southern Pamlico, Core and Bogue sounds and the New River Estuary. The Coastal Resilience program seeks to provide tools and a network of practitioners around the world supporting hazard mitigation and climate adaptation planning.
Since 2011, according to the website, NOAA's National Centers for Coastal Ocean Science researchers have been studying ways natural techniques like living shorelines to control shoreline erosion.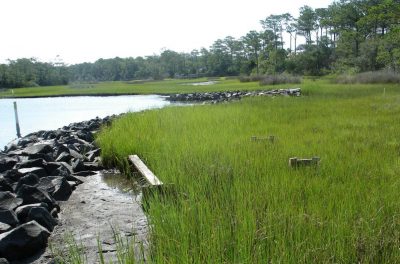 Using a map, this tool identifies where in Onslow and Carteret counties wave energy conditions are best suited to use a living shoreline for erosion control. A living shoreline is a method used to control erosion with only native wetland vegetation or paired with natural fiber logs, bagged oyster shell or rock or wooden structure installed parallel to the shore to serve as an initial wave break.
Research biologist Carolyn Currin, who helped develop the app along with research ecologist Jenny Davis, both at the NOAA Beaufort lab, told Coastal Review Online that the tool provides documents that describe the tool in detail and explains living shorelines. There is also a map that allows the user to zoom in on any part of the shoreline in Onslow and Carteret counties to see the results of the guidance, as well as the data that went into the formulating the guidance.
"There are links to additional resources that may be of interest, and a really cool infographic on living shoreline features, and why they should be considered instead of hardened shorelines," Currin added.
Currin explained that the tool works by bringing together three kinds of information to provide site-specific guidance on whether, and what kind of, a living shoreline approach can be used for waterfront property.
"Wave energy is the main factor determining whether a shoreline can support vegetation, so we ran a wind-wave energy model for the entire estuarine shoreline in Carteret and Onslow counties," she said. They also factored in proximity to navigation channels due to boat wakes also being a source of wave energy.
"Finally, the presence of nearby salt marsh is a strong indicator that incorporates numerous features that allow a site to support vegetation, so we used a map of shoreline vegetation in our guidance tool. Based on our knowledge of the relationship between marsh vegetation, oyster reefs and wave energy, we created an index on the suitability of a site for different living shoreline designs," Currin said, adding that the tool provides recommendations at intervals of 50 meters, or about 150 feet, along the estuarine shoreline.
She said that the living shoreline tool can be used by a variety of stakeholders involved in estuarine shoreline stabilization.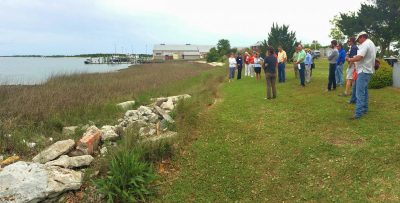 "(The tool) can help homeowners and waterfront property owners understand the basic concepts supporting the use of natural habitats to prevent erosion, and provides guidance on what type of living shoreline would be best for their property," she explained. "It can help contractors and engineers designing stabilization projects by providing information on the wave energy of a proposed site. Finally, it helps the regulatory community, who are trying to streamline the permitting process, by providing a quick and easy look at the physical and biological features of a proposed site."
Currin said the app was created because, after participating in a series of workshops, they learned that while there was a great deal of interest in living shorelines, there was uncertainty about how to approach the projects and if they would work.
"In the field, we saw mismatches in shoreline stabilization projects, where hardened structures, which are more expensive, were used in low-energy settings where natural habitats could have been used," she said. "We thought a web-based tool that both explained living shorelines, and provided site-specific guidance based on wave energy, could help those interested in using a living shoreline."
The research used, Currin explained, included examining "the relationship between wave energy and fringing salt marshes, and saw a clear relationship between marsh width and wave energy."
She added that scientists at North Carolina State University saw a similar relationship between oyster reefs and wave energy.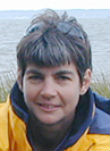 "We also have a decade of research on marsh vegetation and sediment accretion in natural and hybrid living shorelines in North Carolina, which provided additional guidance on the sustainability of living shorelines," she said.
"We hope this tool helps communities implement more resilient and cost-effective shoreline stabilization," Currin added. "Comments and questions welcomed, we continue to improve it and would like to expand it."
In its 10th year, The Coastal Resilience program is designed around an online mapping tool that supports communities conducting hazard mitigation and climate adaptation planning. Coastal Resilience projects can be found in the Caribbean, Mexico, Central America and 17 states, including North Carolina.
Learn More