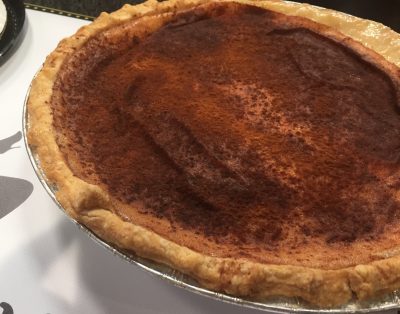 If you listed the definitive pies of North Carolina, you would surely start with sweet potato. Pecan might be next, or take top billing, depending on your personal taste. Scuppernong grape, maybe even grape hull pie, deserves a place, as do blueberry and fresh strawberry.
Along the state's shore, you'd add one more pie, as Jessie Lee Babb Dominique made clear to me years ago when we sat down to talk about her Christmas memories growing up on Portsmouth Island.
Born in the late 1920s and living on Portsmouth until the early 1940s, Dominique remembered what she called "cream pies" playing a huge role on the holiday table. She didn't mean coconut cream pie or the famous Down East lemon cream pie in a Ritz cracker crust.
Dominique described a custard pie filling in which the baker could fruit if desired. Cream pies were prized among the many desserts Dominique's single Aunt Elma "Addie" Dixon baked in a kerosene stove for Christmas.
"Mama would say, 'Addie, why are you making all those pies and cakes? There's nobody but you.' And Addie would say, 'Well, I want to make sure if somebody comes in that I'll have it so I can give 'em a piece of it," Dominique said.
"And this is why they made so many. Because people did visit."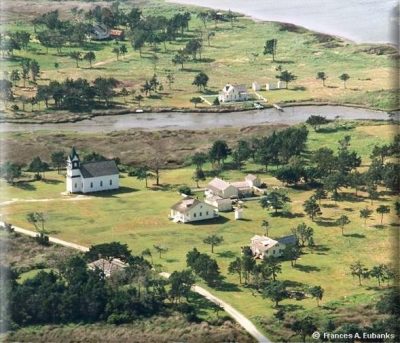 Dominique has since passed away. Every year, at Christmastime, I envision the cream pies she so lovingly spoke about.
North Carolina's bygone barrier island communities didn't invent cream pies. The desserts started with coastal natives' British ancestors. The Brits had a penchant for puddings that cooks eventually began baking in pastry-lined pans. That happened occasionally in 1600s and more frequently by the 1700s.
Canned evaporated milk set the stage for American cream pies in the first half of the 20th century. Old-fashioned custard pies remain cherished recipes throughout the southern United States.
Dating to the mid-1800s, canned milk fueled Union soldiers during the Civil War. By the late 1800s, the public could buy it, too. The well-known Carnation brand of evaporated milk brand debuted in 1899, but evaporated milk was not widely available until the 1920s.
Shelf-stable and far richer-tasting than milk, canned milk was a dream come true for early 20th century households without refrigeration.
In 1931, the popular Borden Co. offered homemakers $25 for their original recipes using Eagle Brand sweetened condensed milk, which is evaporated milk thickened with sugar. More than 80,000 recipes were submitted, the company reports.
Canned milk could be transported by boat to the North Carolina barrier islands and stored for long periods. Evaporated milk lands in quite a few popular coastal Carolina creamy pie recipes, including raisin pie and that Down East lemon pie. Canned milk is also in pineapple pie, another Portsmouth Island holiday favorite that Dominique pointed out. The filling contains canned crushed pineapple stirred into egg yolks, sugar, butter and evaporated milk.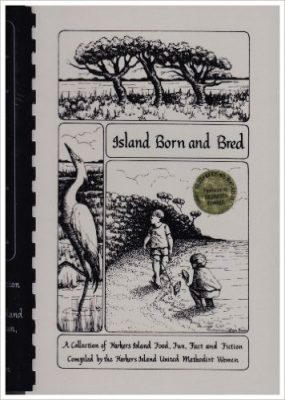 A basic cream filling like the one that goes into pineapple pie is offered by cook Pat Lane in "Island Born and Bred," a community cookbook collection of Harkers Island recipes, lore and history compiled in the late 1980s by the Harkers Island United Methodist Women. Lane suggests adding either grated lemon zest, coconut or crushed pineapple to the filling.
Core Sound Waterfowl Museum and Heritage Center executive director Karen Willis Amspacher's old-fashioned egg custard pie recipe requires a similar list of ingredients, minus the fruit.
Cream pies weren't just for holiday time. Another recipe in the book is akin to a peach version of Dominique's family's cream pies. Flour and evaporated milk are heated together and then mixed with fresh peaches, sugar, eggs, butter and vanilla.
Dominique clearly recalled the desserts in screened cool houses. Island residents used the little house-shape structures to cool or keep foods cool. How anyone walking by resisted nabbing a slice pie could well be one of the greatest mysteries of Portsmouth Island.
Basic Cream Pie Filling
2 cups sugar
½ cup all-purpose flour
3 egg yolks, beaten
3 cups evaporated milk
1 tablespoon vanilla extract
½ stick margarine
In the top of a double boiler, stir together sugar and flour well blended. Add egg yolks. Pour in milk and mix well. At this point, you may add the zest of 2 lemons, a 20-ounce can of crushed pineapple drained or 3 cups of sliced fresh peaches. Add vanilla and margarine. Place on top of double boiler and cook over low heat until thickened. Divide filling between two 9-inch baked pie crusts. Cool in the refrigerator for several hours before serving. Makes 16 servings.
Source: Based on a recipe in "Island Born and Bred" (Harkers Island United Methodist Women, 1987)