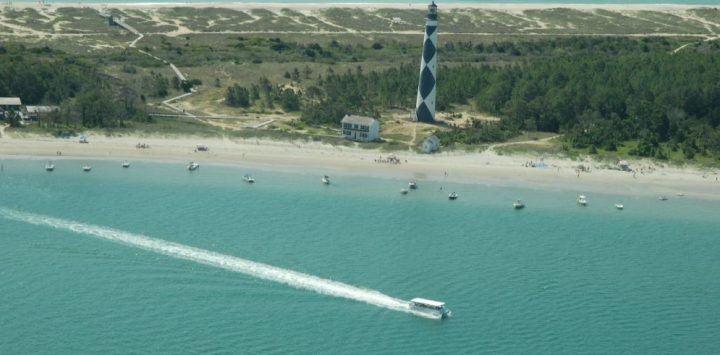 HARKERS ISLAND – Parts of Cape Lookout National Seashore will be hibernating for the winter.
The National Park Service's Beaufort Visitor Information Center at 701 Front St., Beaufort, in Beaufort Town Hall will be closed for the season from Sunday, Dec. 10, to Sunday, March 19, 2018. Ferry service to the west end of Shackleford Banks is still available at the Island Express Ferry Service vestibule across the street from the visitor center.
The National Park Service's Harkers Island Visitor Center and the Island Express Ferry Service gateway to Cape Lookout Lighthouse and east end of Shackleford Banks at 1800 Island Road, Harkers Island will also have winter hours  Dec. 10 to March 19, 2018. The center will be open 9 a.m. to 5 p.m. Monday through Saturday and closed on Sundays, Christmas day and New Year's Day. Ferry service, the Soundside Loop Nature Trail and Willow Pond Nature Trail are open seven days a week, and holidays during daylight hours.
To reach the passenger ferry service to the islands, which is available daily weather permitting, call the ferry at 252-728-7433.
This is the perfect time to hike the trails on Harkers Island. The Soundside Loop Trail is a 4/5-mile, self-guided nature trail that winds along the eastern shore of Harkers Island, through maritime forest and salt marsh. The trail features a boardwalk and observation deck overlooking Core Sound. Willow Pond Nature Trail is a 1/3-mile trail winds around a restored freshwater pond with views of wetland habitats and maritime woodlands. Watch for ducks and songbirds.
Speaking of waterfowl, neighboring the Harkers Island Visitor Center is the Core Sound Waterfowl Museum and Heritage Center open 10 a.m. to 5 p.m. Monday through Saturday and 2 to 5 p.m. Sunday. Call 252-728-1500.
The National Park Service offers a handful of cold-weather activities during the winter, including viewing the "Ribbon of Sand" 26-minute film about Cape Lookout in the Harkers Island Vistor Center.
There are also cell phone tours to give visitors a chance to learn more about the park before, during or after a visit. These ranger-narrated tours are free though normal cell phone minutes and data rates will apply. Call 252-838-7052 and select a stop number on a specific tour to hear a brief story. Available tours are the following:
Orientation to Cape Lookout National Seashore: stops 100 – 107.
Harkers Island Nature Trails: stops 201 – 210.
Cape Lookout Light Station: stops 501-511.
Portsmouth Village: stops 940-950.
For the young nature enthusiasts, there are is the Junior Rangers program designed for ages 5 to 13, but everyone is welcome to participate. There are six different booklets and awards in the Junior Ranger and Junior Ranger Adventures programs. Booklets are available at the Harkers Island Visitor Center and the Beaufort Visitor Information Center.
All activities are free of charge unless noted otherwise below. For more information on these and other activities, call the National Park Service at 252-728-2250, extension 0.
Learn More