RALEIGH — A key U.S. Senate committee has asked the U.S. Fish and Wildlife Agency to end its Red Wolf Recovery Program in North Carolina, The Charlotte Observer reported.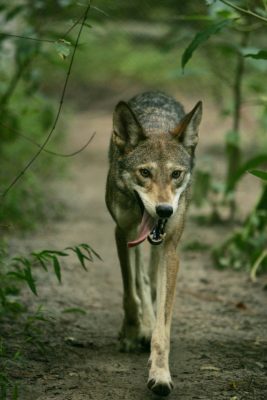 The move, which came at the urging of Sen. Thom Tillis, R-N.C., is part of the Senate Appropriations Committee's $32 billion spending bill for the Department of Interior and environmental agencies released last week. Tillis had previously recommended the program be ended and wrote the provision included in the bill.
The only remaining red wolves in the wild are those from a captive population released in North Carolina in 1987, seven years after red wolves were declared extinct in the wild.
The program has met opposition from private landowners in northeast North Carolina. Tillis told a U.S. House committee last year that more than 500 private landowners had asked that the federal government keep wolves off their land.
The Fish and Wildlife Service has not said it would end the program. But last year the agency proposed changes that would allow it to move wild wolves into its captive-breeding program, which holds about 200 wolves. The changes would limit wolves to federal land in Dare County alone instead of the largely private land they now roam in five counties.
A public comment period on the proposal that ended in July generated more than 12,000 responses with overwhelming support for keeping wild wolves in North Carolina.
Learn More