BOLIVIA — Former Caswell Beach mayor and former state Coastal Resources Commission member Harry Quinton Simmons Jr. pleaded guilty Wednesday to embezzling close to $700,000 from a group that intended the money be spent on lobbying for beach protections, the Wilmington StarNews reported Wednesday.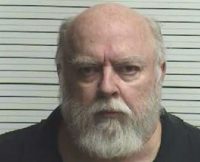 Simmons, 64, pleaded guilty to one count each of embezzlement and obtaining property by false pretenses. In exchange for the plea, 16 additional counts were dismissed. He was sentenced to 6 to 8.3 years in prison and was given credit for the 773 days he spent in jail awaiting trial. Simmons was also ordered to pay full restitution to the beach towns with the payments split up to reflect the amount each jurisdiction contributed.
Prosecutors said Simmons stole more than $673,000 and spent it on a "lavish lifestyle" that included producing pornographic photographs, sometimes featuring himself, for which he paid numerous models, including a "known adult film actress."
The embezzlement happened while Simmons chaired and acted as treasurer for the Brunswick Beaches Consortium, now called the Brunswick Shoreline Protection.
The joint agency was established to address beach erosion and re-nourishment issues. In 2000, Simmons was named chairman and during his 14-year tenure Brunswick County, Bald Head Island, Caswell Beach, Holden Beach, Oak Island, Ocean Isle Beach and Sunset Beach contributed more than $1 million. The money was intended to be used hire lobbying firm to assist in obtaining federal funds to accomplish the group's goals.
Learn More