RALEIGH – The heads of the state environmental and public health agencies announced Thursday the new members of the recently expanded Secretaries' Science Advisory Board, which will examine new and emerging chemicals and the potential impacts to human health and the environment.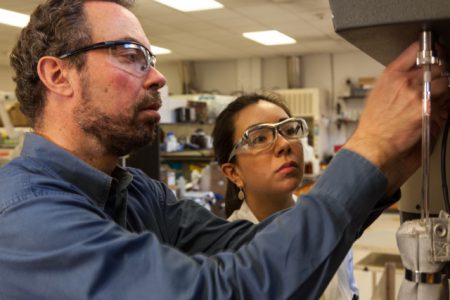 The board of 16 experts in toxicology, public health, ecology, engineering and related fields will study ways to better protect North Carolina's citizens and environment from these new and emerging chemicals of concern, including GenX and hexavalent chromium.
"We selected top talent from a robust pool of more than 50 candidates from across North Carolina," Michael Regan, secretary of the N.C. Department of Environmental Quality, said in a statement. "The panel we've assembled will provide vital long-term scientific guidance on how to best protect public health and the environment from emerging chemical compounds."
Members of the Science Advisory Board will use their expertise to assist DEQ and DHHS by recommending reviews and evaluations of contaminants released to the environment; acting as consultants on DEQ's determinations to regulate releases of contaminants; and assisting the agencies in identifying contaminants of emerging concern and helping determine whether the contaminants should be studied further. Experts on the panel will also help evaluate the human health impacts of exposure to hazardous contaminants, and give input to DHHS as the agency establishes health goals for emerging contaminants.
"We share a goal to protect the safety and health of all North Carolinians," Mandy Cohen, secretary of the N.C. Department of Health and Human Services, said in a statement. "We look forward to working closely with the panel and our partners at the Department of Environmental Quality."
The full board's first meeting will be from 3-5 p.m. Monday, Oct. 23, in the Ground Floor Hearing Room of the Archdale Building, 512 North Salisbury St., Raleigh. The board is scheduled to introduce the new membership, discuss its priorities and hear from Regan and Cohen. Board members will conduct business in an open forum to allow for public input as they consider the latest research and offer much-needed peer review of available scientific data. A web page has been developed for the newly expanded science board.
Gov. Roy Cooper approved a revised charter for the group, which formerly had been known as the Secretary's Science Advisory Board on Toxic Air Pollutants and based solely at DEQ. Under the board's new charter, the scope of its work has expanded from toxic air pollutants to a broader focus on the impact of new and emerging chemicals. Membership also increased from eight to 16 voting members, and includes four members of the former board. All members are appointed by the DEQ and DHHS secretaries. Members come from academic institutions, the public and private sectors, and independent research facilities. The board will meet at least six times each year.
On Oct. 12, the state named Dr. Jamie Bartram as the new chairman of the board. Bartram is a professor and founding director of The Water Institute at the University of North Carolina at Chapel Hill.
"Environmental exposures are important and often overlooked causes of disease worldwide," Bartram said in a past release. "I am extremely pleased to see the leadership of North Carolina tackle emerging hazards. I look forward to seeing the board provide practical, workable support to Governor Cooper and DEQ so that we may effectively address the needs of the people of our state."
Other members of the board are:
Viney Aneja, Ph.D., a professor in N.C. State University's Department of Marine, Earth and Atmospheric Sciences.
Tom Augspurger, Ph.D., an ecologist/environmental contaminants specialist at the U.S. Fish and Wildlife Service in Raleigh, an adjunct associate professor in the Toxicology Program at N.C. State University and president of the Society of Environmental Toxicology and Chemistry (North America).
Greg Cope, Ph.D., department extension leader in Applied Ecology and coordinator of N.C. State's Agromedicine Program.
David Dorman, DVM, Ph.D., DABVT, DABT, an N.C. State University professor of Toxicology in the Department of Molecular Biosciences and a former associate dean for Research and Graduate Studies at N.C. State's College of Veterinary Medicine.
Jaqueline MacDonald Gibson, Ph.D., an associate professor at UNC's Department of Environmental Sciences and Engineering with a multidisciplinary background in math, science and engineering.
Richard T. Di Giulio, Ph.D., the Kleberg Professor of Environmental Toxicology at the Nicholas School of the Environment at Duke University.
Elaina Kenyon, Ph.D., DABT, principle investigator in toxicology at the EPA's research laboratory in Research Triangle Park. She is an adviser to the World Health Organization and International Programme on Chemical Safety. She served on the former Science Advisory Board.
Gina Kimble, Ph.D., a laboratory supervisor at Charlotte Water and Catawba Wateree Water Management Group team lead for the Water Supply Master Plan Phase 3 project.
Detlef Knappe, Ph.D., a professor of Civil, Construction and Environmental Engineering at N.C. State University. In November 2016, Dr. Knappe and co-authors at the Environmental Protection Agency and UNC-Charlotte published research showing elevated levels of GenX in drinking water at a plant near Wilmington.
Thomas Starr, Ph.D., holds an academic appointment to the UNC Gillings School of Global Public Health's Department of Environmental Science and Engineering. He served on the former Science Advisory Board since 1990, including eight years as chairman.
Woodhall Stopford, MD, MSPH, a physician at Duke University Medical Center and past director of the Occupational and Environmental Medicine Toxicology Program at Duke. He served on former Science Advisory Board since 1990.
Michael Stoskopf, DVM, Ph.D., DACZM, a professor of Wildlife and Aquatic Health at the N.C. State's School of Veterinary Medicine, with appointments to Forestry, Biomedical Engineering and Toxicology. He also is director of NCSU's Environmental Medicine Consortium.
Phillip Tarte, MPH, the Public Health director of New Hanover County. He is a member of the board of the N.C. Institute of Medicine.
Betsey Tilson, M.D., MHP, a pediatrician and preventive medicine physician serving as state health director and chief medical officer. She has focused on public health and prevention and cross-department initiatives, including clinical quality standards.
John Vandenberg, Ph.D., director of the Research Triangle Park Division of the EPA's National Center for Environmental Assessment. He also is an adjunct professor in the Division of Environmental Sciences and Policy at Duke's Nicholas School of the Environment.
Learn More